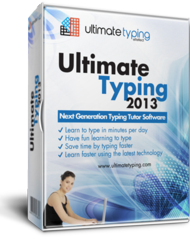 Keyboard practice is made efficient and not time-consuming mainly thanks to the software's two advanced technologies, EasyLearn™ and Adaptive Learning™.
New York (PRWEB) January 17, 2013
Software review site Boffin has compared 3 leading typing software systems and has found that Ultimate Typing™ is unquestionably at the top, thanks to the highly efficient keyboarding practice it offers to typing learners.
Boffin compared the three different typing software products in terms of their instruction quality, technologies and tools used, and actual learning results acheived. Ultimate Typing™ has been revealed to be very user-friendly mainly because of its clean and minimal interface and also because the video tutorials it offers are thoroughly understandable, workable and to the point. This, according to the reviewer, allows learners to proceed with actual practice having first learned the necessary theoretical and practical knowledge.
The review focuses on how the over 500 exercises and activities make Ultimate Typing™ more appealing than the other two software products. The great variety of activities, drills, and games means that people of all ages can find engaging and fun exercises to improve their typing skills with. As the reviewer states, having fun and easy activities implies that the learners are kept motivated to keep practicing their typing skills until these are perfectly mastered.
Unlike the other two more conventional software systems, the newly released Ultimate Typing™ software package integrates the latest in typing technologies for faster and better typing results. By practicing with Ultimate Typing™ exercises daily for two weeks for just 7 minutes per day, users can see substantial improvement in their speed and accuracy.
Keyboard practice is made efficient and not time-consuming mainly thanks to the software's two advanced technologies, EasyLearn™ and Adaptive Learning™. These two technologies make sure that practice is focused and intense, which means that the user can hone their typing skills in a short period of time. With first-class video tutorials and customizable exercises, Ultimate Typing™ has an obvious advantage over the other typing software products.
For Boffin, Ultimate Typing™ is at the top of its category because it manages to present all necessary tools in one place. All the techniques and characteristics necessary for accurate and fast typing are available: user-friendliness, ease of use, engaging exercises, and cutting-edge technology. The review concludes that this software package provides everything a user could ask for in a typing tutor program.
For more information on how Ultimate Typing™ can improve your typing speed and accuracy please visit the official website http://www.ultimatetyping.com.
About Ultimate Typing™
Ultimate Typing™ is an advanced typing tutor software that offers incomparably sophisticated typing strategies.
Ultimate Typing™ is based on the latest research and scientific developments regarding efficient typing. With as little as 7 minutes a day, aspiring fast typists can substantially improve their typing accuracy and speed.
With its user-friendly and expert-designed activities all users can improve their typing. Accurate typing is possible thanks to Ultimate Typing™. Plus, eReflect provides a money-back guarantee that cannot be matched.