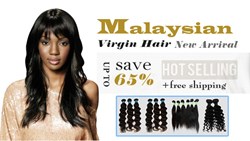 (PRWEB) January 05, 2013
Today, Vipvirginhair.com, a leading hair extension supplier, is excited to announce its New Year's Sale of hair extensions from Jan. 5 to Jan. 31, 2013. The promotion covers all products, including its fresh arrivals - Malaysian hair extensions.
On the website Vipvirginhair.com, the original and the latest discounted prices are listed clearly. Customers can browse through the catalog and choose popular hair extensions, like Malaysian hair and Indian hair extensions easily.
The hair extension products from Vipvirginhair.com have made a good market performance, and have greatly stimulated their business development in the last few years. Vipvirginhair.com hopes to show their appreciation to their loyal customers through this promotion.
"Malaysian hair extension products can keep the same quality and color for more than one year if in proper maintenance. The virgin hair's price is comparatively higher compared to non-virgin hair or synthetic hair," said, Mr. Bonner, CEO of the company.
Mr. Bonner added, "Customers could get their favorite hair extensions at affordable prices on our website now. No matter Indian hair, Mongolian hair or Peruvian hair extensions. "We will not leave you disappointed. You can change your hairstyles within few minutes with our products."
About Vipvirginhair.com
Founded in 1985, Vipvirginhair.com is a reliable hair extension shop. Their products mainly include Malaysian hair, Indian hair, Mongolian hair and Peruvian hair extensions. They dedicated to bringing hair fashions to a new level of choice and sophistication. They own a dedicated and knowledgeable customer service team, and offer a quick-and-easy online purchasing process to all customers.
For more details, please visit: http://www.vipvirginhair.com/