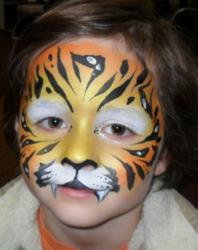 "Thank you once again for your support on Sunday the kids just looked amazing!"
Carla Buriani – Events Assistant Perfect Events
Melbourne, Victoria (PRWEB) January 06, 2013
This year at the Australian Open 2013, the tennis players won't be the only ones having all the fun. Guests can enjoy a bit of creativity and cutting loose by getting their face painted by We Love Face Painting! We Love Face Painting! will be painting for Kia Motors and dares anyone to get as outrageous as they can with it. What better way to unwind than being silly? We Love Face Painting! will provide a mix of fun and innovative designs to keep the spirit going throughout the day. They encourage attendees to show their patriotism by having their country colours painted on their face or body.
They are quite excited to be at the event and enjoying 13 days of painting. Attendees can try a new design each day to really keep the spirit going. We Love Face Painting! will be available underneath the red umbrellas opposite of the main garden.
We Love Face Painting!, founded by Shelley Bledsoe in 2007, is based in Melbourne, Victoria. Shelley has a background in Makeup Artistry and naturally progressed into face painting.
"Our team of face painters thoroughly loves what we do and pride ourselves on our passion, and quality work."
Their face painting designs range from the popular full face to cheek art and they are great for family fun days, corporate events, grand opening events, children's birthday parties and more.
"We love our work because it is such a great joy to make people feel special. We love how face painting makes us feel too! Our greatest reward is feeling connected to the community, we are privileged to share in your special occasions, and to meet people from all walks of life. We love to watch the magic of art impact on peoples' lives. It is our teams sincerest desire to provide each person we paint with a feeling of joy, satisfaction and personal value in the time we spend with them."