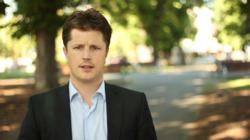 I think my audience now is much more engaged and I'm getting people from a lot, a wide array of places and I'm sort of getting mentioned in a lot of places that I look up to and I think that's gone to a new level
Melbourne, Au (PRWEB) January 09, 2013
Jake Hower of The Multimedia Marketing Show releases podcast interview of Dan Norris from Inform.ly for the show's fourth podcast.
The podcast focuses on how Dan Norris used content creation to build a strong audience for his websites.
"[For my web design business,] I started producing a lot of content probably for about two years. I probably produced 200 posts of different types. I think I write four or five e-books and a bunch of videos and just kept pumping at the content and building the rankings but also building the long tail –I should say– traffic and the audience as well to a point where it was fairly well known," said Dan Norris.
Then he sold off that business and had to start from scratch for his new business, Inform.ly.
"I think within three months, my new site is already getting more traffic than the old one which was six years old. I think from an audience point of view, I think my audience now is much more engaged and I'm getting people from a lot –a wide array of places and I'm sort of getting mentioned in a lot of places that I look up to and I think that's gone to a new level," said Mr. Norris.
Norris discusses how content can become a form of business networking.
"The way I see the content is, it is networking. I'm not very good at networking. I don't really get business lunches and sat talking to random people. But I do have a lot to say and I know other people that have a lot to say that I have a lot in common with. I can easily ring them up and interview them for my show," said Mr. Norris.
Marketers who are interested in learning more about how quality content is king, how to find a niche, guest blogging, and content creation that dominates, can listen [click here to the in depth interview at The Multimedia Marketing Show.
About The Multimedia Marketing Show with Jake Hower
Too many people focus on short-term "push button riches" sales strategies. The Multimedia Marketing Show's focus is on long-term sustainable solutions that build out the authority in a particular market.
Business owners who implement the strategies taught in The Multimedia Marketing Show's podcasts and videos will increase authority and build a defensible business that competitors cannot easily replicate.
Tap into the video marketing expertise at The Multimedia Marketing Show with Jake Hower.
About Jake Hower
Jake is a co-director of Pan Australian Travel. He joined his current business partner as a director in 2009. He has extensive travel industry experience, having worked in various senior positions before joining the company. Jake's role within the company has him overseeing marketing, client management and new client acquisition, with a focus on driving innovation through the entire group. Jake is a member of Entrepreneurs Organization (EO) and is actively involved in various travel industry associations.