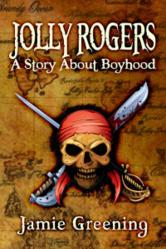 I wrote this story as a Halloween tale, but it turned into a trip down memory lane. Jolly Rogers will cause you to remember, or long for, a simpler time when children lived happier, less complicated lives. - Author Jamie Greening
Holmen, Wisconsin (PRWEB) January 05, 2013
Bard and Book Publishing is an innovative publishing group whose authors create new material for their dedicated readers through writing approaches that are outside the realm of the normal publishing world. Bard and Book Publishing set out to be different from the start and that is evident through the authors they associate with, including Jamie Greening.
Greening is a Gen'xer who lives and pastors in Washington State yet does high quality writing at his home in Central Texas. Greening has authored books and short stories, contributed to the Abingdon Worship Annual for many years and most recently, has both a novel and a co-authored biblical studies tome nearing publication.
The words realism and fantasy don't often come together, but in Greening's writing the two frequently meld into compelling narrative, as is evident in his latest release: Jolly Rogers: A Story about Boyhood. Greening says, "I wrote this story as a Halloween tale, but it turned into a trip down memory lane. Jolly Rogers will cause you to remember, or long for, a simpler time when children lived happier, less complicated lives."
To experience the Bard and Book service and get access to author Jamie Greening's other works, two subscription options are currently available. The free membership option gives a reader full access to digital edition of works the authors produce but only within 30 days of the work's release. The premium (paid) membership gives the reader full access to every digital edition of works the authors produce, past and present, as well as full access to the authors themselves in forums, comments, chats, etc. An added bonus to the paid membership is that the subscriber will receive 1 free copy of a printed edition of a Bard and Book publication each year, including shipping. The paid membership plan is available for only $5.95 per month.