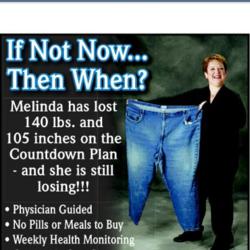 South Bend, IN (PRWEB) January 08, 2013
InShapeMD® holds Grand Re-Opening in South Bend, IN to promote comprehensive wellness for Indiana community.
"Fast and Furious" isn't just a movie title; it's a phrase being used to describe whittling your waistline in a matter of just weeks, thanks to InShapeMD®. As one of the nation's fastest-growing anti-aging & medical weight loss franchises, InShapeMD® has been expanding across Indiana with 4 InShapeMD® locations now open statewide (South Bend, Lafayette, Greenwood, and Carmel).
Barb Truhler, owner of InShapeMD®'s location in South Bend, is ecstatic to help the community become healthier, more fit, and active. "By losing weight and incorporating BHRT (Bio-identical Hormone Replacement Therapy) when necessary, we want to help people take control of their health in a cost-effective and flexible manner."
Truhler looks forward to showing each and every patient the results which accompany medically-guided weight loss and hormone balancing for both men and women.
"Our goal is to offer our community a physician-directed weight loss and anti-aging solution with fast results, which I know will keep our patients motivated to continue on their health improvement journey," explains Truhler. She expressed that she is incredibly passionate about helping people see the "inner" health benefits of InShapeMD® products and services along with the "outer" visible results.
InShapeMD®'s South Bend, Indiana office will operate in conjunction with ANY LAB TEST NOW® (also one of the nation's fastest-growing retail franchises), which has already had its doors open since 2010.
Highlights of South Bend's Grand Re-Opening promotions include FREE weight loss/anti-aging consultations, body fat analysis, and energy-boosting vitamin B-12 shots. The facilities' hours of operation are 9am to 5:30pm Monday through Friday, and open on Saturdays by appointment only. For more information, please visit InShapeMD.com.
About InShapeMD®
Founded in 2009, InShapeMD® is a franchise of comprehensive wellness clinics specializing in medical weight loss, testosterone therapy (Bio-Identical Hormone Restoration), and nutraceuticals. Each location is physician-supervised and staffed with a medical & nutritional team to provide support to each patient every step of the way. With more than 50 locations around the U.S., InShapeMD® offers a variety of affordable programs to consumers and businesses including prescription weight loss, anti-aging, pharmaceutical-grade supplements, food allergy testing, and many more products/services. To learn more about InShapeMD® visit InShapeMD.com .