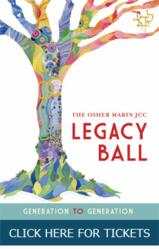 It [the Osher Marin JCC] remains, all these years later, a place that speaks to so many needs in our community from the youngest to the elderly. Steve & Leslie Isaacs
San Rafael, CA (PRWEB) January 07, 2013
For over 65 years, the Osher Marin JCC has been enriching, sustaining and nurturing the Marin community from Generation to Generation. The JCC awards more than $200,000 in scholarships each year to help those in the community strengthen their bodies and spirits at the JCC's award-winning pools and fitness center, experience summer camp, enjoy weekly programs & excursion for seniors, participate in the preschool and toddler programs, attend inspiring performing arts programs, and so much more.
The Legacy Ball invites the community to celebrate our programming with live music, dancing, feature cocktails, raffle prizes, sweet and savory delicacies and silent auction while raising funds for scholarships.
WHO: All are invited. Guests need not be current members of the JCC.
WHEN: Saturday, January 26, 2013, at 7pm. Purchase tickets at marinjcc.org/legacyball or call 415-444-8055. Free childcare will be available (with tickets purchased by January 25, 2013). Those who cannot attend can still support the JCC by visiting marinjcc.org/donate.
WHERE: Osher Marin JCC, 200 North San Pedro Road, San Rafael.
About the Osher Marin JCC
The Osher Marin JCC is the community center of Marin County. Epitomizing the essence of Marin, with a range of authentic cultural experiences enjoyed by many generations, the Osher Marin JCC offers award-winning facilities, abundant physical and educational activities and world-class programming relevant to our entire community today. Since the Osher Marin JCC's founding in 1947, the center has become recognizable for its rich history of Jewish traditions and values with an unparalleled all-inclusive community spirit.
Creating a sense of "community" for every generation and all ages is at the heart of the JCC philosophy. This pursuit extends beyond the Center membership, providing access to a myriad of programs and offering scholarships to hundreds of physically and economically disadvantaged men, women and children. The Center embraces the entire community and invites all to participate.