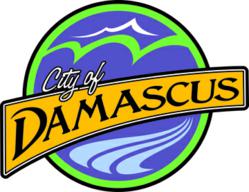 The goal of our town hall meetings are to involve the citizens in the process of constructing our comprehensive plan," stated Chris Hawes, Chairperson of the Damascus Committee for Citizen Involvement.
Damascus, Oregon (PRWEB) January 06, 2013
The City of Damascus will open the doors to City Hall and invite citizen discussion concerning the parks and public facilities elements of the comprehensive plan. The conversation about future park needs and the water, sewer, and storm water infrastructure plans will be led by members of the Planning Commission, City staff, and the Damascus engineering team. Part of the conversation will also focus on the costs of these public facilities and how to fund them.
"We had a great turnout with really positive comments and questions when we had the Town Hall meeting in December about the Natural Features portion of the plan," stated John Morgan, Community Development Director for the City of Damascus. "The Planning Commission was able to incorporate some of the ideas generated at the meeting into the draft plan. We're hoping for an equally productive meeting when we discuss the parks and public facilities elements of the proposed Comprehensive Plan."
The purpose of comprehensive plans is to coordinate the harmonious development of cities to meet present and probable future needs and resources in order to promote the health, safety, and welfare of the citizens. The City encourages all of the citizens of Damascus to come have their questions concerning the parks and public facilities elements of the proposed Comprehensive Plan answered and have their voices heard in this vital step in moving the Comprehensive Plan forward.
After each Town Hall meeting, the Planning Commission will consider the input from the citizens before making recommendations to the City Council for consideration.
The Town Hall meeting will be:
Saturday, January 12, 2013
1:00 P.M. — 3:00 P.M.
Damascus City Hall, 19920 SE Highway 212
Future Town Halls (All are tentatively scheduled for 1:00 to 3:00. Locations will be determined):
February 2 Transportation System Plan (part 1)
February 23 – Land Use, Housing, Economic Development, Parks and Zoning Map
March 16 – Transportation System Plan (part 2)
April 6 – Development Code and Zoning Map
April 27 – Comprehensive Plan and Development Code
Public Hearings on the draft Comprehensive Plan, Development Code, Public Facility Plan, and Transportation System Plan will be held in May, June, and July. It is anticipated the draft plans will be on the November 2013 election ballot for citizen approval.