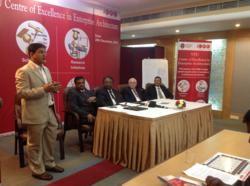 John Zachman " VTU embracing the concepts of Enterprise Architecture is a monumental event as no other university system in the world that I know of has yet made such commitment."
New York (PRWEB) January 07, 2013
Visveswaraya Technological University(India's leading and largest technical Universities having 194 affiliated engineering colleges and over 3,50,000 students) in partnership with iCMG, a global leader in Enterprise Architecture, is setting up the Sir Visveswaraya Center for Excellence in Enterprise Architecture, which is expected to be the world's largest center in this domain.
Enterprise Architecture (EA) is a young discipline that has only been around since the early 1980s. It was not until the mid-1990s that EA started to build momentum: being adopted by most of Fortune 500 companies. As there exists enormous potential for growth, VTU and iCMG will be initiating several programmes which will not only create a substantial resource pool base, but also will become a leading-edge research and excellence center.
The partnership will embolden VTU initiatives in providing industry-centric education, create vast resource pool base and capacity building for the global industry which is looking for students with better and enhanced skill sets. The Center will focus on training programmes in the area of Enterprise and IT Architecture, research in software and enterprise architecture and consulting services by VTU team and ICMG for Government, Small & Medium Enterprises.
Announcing the setting up of the Center, the VTU Vice Chancellor, Dr. Maheshappa said "Enterprise architecture is a critical capability for organisations looking to create long-term value. By improving transparency, refining business processes, and tightening the connections between tactics and strategy, EA can help support prudent near-term planning and decision making—a vital capability as organisations work to improve their agility in any given market situation. The Center will develop these capabilities in students and ensure a vast resource pool for the industry to tap and benefit."
To initiate enhanced student interest in EA, the Center will be offering scholarships to four students every year from one of the many VTU affiliated colleges. The scholarship amount is around $10,000 per year.
Zachman Framework (i.e. Enterprise Ontology) will be used as a basis for the Enterprise Architecture, thus providing a solid base for the students to understand the inherent complexity and effectively combine other frameworks for problem-solutions. iCMG has several Enterprise & IT architecture training modules consisting of 24 hours, 32 hours etc. This will be customized to suit the needs of the students, faculty, principals etc. iCMG support will also include courseware and training modules, slides, industry case studies, tests and certification. In the first year, around 3,000 students are expected to be trained and certified by the Center.
VTU will provide the necessary infrastructure and logistics support for both classroom as well as online training programs. It will also co-ordinate with regard to permissions and approvals of students/faculty from their respective colleges and departments etc. Training programs will be conducted in regional offices of VTU as well as its campus in Belgaum.
Mr. Nishit Sahay (Head of cSTPP) said "EA can help executives make significant contributions to the business in the near term in four key areas: Controlling costs and budget; Managing the extended enterprise for value; Generating capital at a time of need; and Developing positive relations with regulators and external parties."
John Zachman (Inventor of Enterprise Architecture) – "Enterprise Architecture is a function of the Information Age. VTU embracing the concepts of Enterprise Architecture is a monumental event as no other university system in the world that I know of has yet made such commitment."
Sunil Dutt Jha (iCMG CEO) – "VTU-iCMG initiative will open up new research opportunities for global community. Hope we are able to utilize such work and derivatives in doing industry prototypes in collaboration with the VTU team."
This initiative will also aim at consulting services by VTU team and ICMG for Government, Small & Medium Enterprises etc. in the area of Enterprise and IT Architecture. The idea is to make the center self-sustainable by raising sufficient revenue through training programs, research derivatives and the project consulting in the area of enterprise and IT architecture.
About VTU
VTU is one of India's leading and largest technical Universities having 194 affiliated engineering colleges. Every year over 90,000 students graduate who are the next generation technical leaders, thinkers, innovators and scholars. VTU offers courses in 28 disciplines and Post Graduate programmes in 71 disciplines. The intake of UG level is about 67,100 students and about 12,666 at the post graduate level. The University has four Regional Centers, one Constituent Engineering college, 13 QIP Centers in various affiliated colleges and 15 Extension Centers offering PG programmes.
About VTU cSTPP
VTU established Center for Science, Technology & Public Policy (cSTPP) at "Jnana Sangama", Belgaum for undertaking Industry Consultancy activities. Delhi Transco Limited (DTL) is one of most efficient power transmission utility companies in India has already sanctioned a project of Rs. 30 lakhs for Enterprise Resource Planning (ERP) Audit, Conceptualization and Execution of Disaster Recovery.
About iCMG
iCMG is a pioneer and leading full service Enterprise & IT Architecture Firm. It's global leader in providing architectural services to a wide variety of clients (over 20 domains) across 32 countries. The complete ecosystems of Enterprise & IT Architecture services include consulting, training & certification, research & advisory. In addition, iCMG is reaching more geography and business domains through online architecture services such as Ask the Architects, Online Training & Webinars. In the last 12 years, we have helped customers to manage complexity and contradictions within enterprise for growth. Our team is exposed to hundreds of cases related to non-adaptive business processes and dysfunctional IT systems every week. With 100 architecture training programs scheduled in 20 countries every quarter, you are never away from team iCMG. With breakthrough in creation and visualization of Enterprise x-ray, our consulting team is able to address enterprise problems in 45 days cycle. This will ensure your development time; handling time and production time don't suffer. Every week there are 30 architecture webinars to address the architecture issues that matters. .