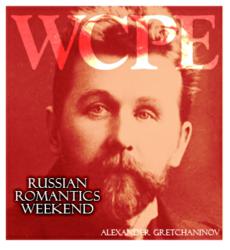 "The music of Russia embodies folk tradition, spiritualism, the ice of winter and the fire of
vodka."
Wake Forest, N.C. (PRWEB) January 12, 2013
WCPE Music Director William Woltz announces a weekend-long extravaganza celebrating Great Classical Music of the Russian Romantics, January 12-13, 2013. Throughout this two-day festival, WCPE will share music from Mussorgsky, Tchaikovsky, Rimsky-Korsakov and a host of others. On Saturday you may request your favorite composers here.
"The music of Russia embodies folk tradition, spiritualism, the ice of winter and the fire of vodka," says Woltz.
Here is a partial listing of the works scheduled;
12 Saturday
8:00 a.m. Rimsky-Korsakov: Suite from Snow Maiden
9:00 a.m. Glazunov: The Seasons
10:00 a.m. Tchaikovsky: Piano Concerto no. 1 in B-flat Minor
11:00 a.m. Mussorgsky: Pictures at an Exhibition
12:00 p.m. Rachmaninoff: Prelude in C-sharp Minor
5:00 p.m. Tchaikovsky: 1812 Overture
13 Sunday
7:00 a.m. Grechaninov: "In Thy Kingdom"
11:00 a.m. Borodin: Symphony no. 2 in B Minor
12:00 p.m. Balakirev: Tamara
2:00 p.m. Rachmaninoff: Piano Concerto no. 2 in C Minor
3:00 p.m. Tchaikovsky: Suite from Swan Lake
4:00 p.m. Rimsky-Korsakov: Scheherazade
5:00 p.m. Kalinnikov: Symphony no. 2 in A
About WCPE:
With a 34 plus year history, WCPE 89.7 FM is a non-commercial, 100 percent listener-supported, independent station dedicated to excellence in Great Classical Music broadcasting. WCPE is heard worldwide on the Internet in multiple formats, including the next generation IPv6. Because WCPE receives no tax-derived support, the station conducts two on-air fundraising campaigns and two major mail-out campaigns per year to raise needed operating funds. For more information, visit http://www.TheClassicalStation.org or call 919-556-5178.
Media Contact:
Curtis Brothers
919.556.5178
curtis(at)TheClassicalStation(dot)org