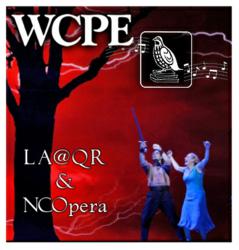 "North Carolina Opera is excited to perform this amazing collection of Wagner opera in concert."
Wake Forest, NC (PRWEB) January 09, 2013
WCPE Community & Arts Liaison Tara Lynn announces the winter 2013 edition of the Local Arts Series, a collaboration from WCPE Radio and Quail Books & Music, January 16, 2013 at 7:30 p.m. at Quail Ridge Books and Music, 3522 Wade Avenue, Raleigh, NC. For this free community event, NC Opera General Director Eric Mitchko will share his enthusiasm and vision for the company's upcoming concert of music of Richard Wagner, in honor of the bicentennial of the composer's birth. Local Arts Series events are part lecture, part performance; Mitchko will be joined by a performer.
The talk, titled "Why I Love Wagner's Ring", will be a brief introduction to the musical world of Richard Wagner, who reinvented opera in order to tell the story of the world's creation, destruction and redemption through love.
"North Carolina Opera is excited to perform this amazing collection of Wagner opera in concert," says Mitchko. "It will feature some of opera's top talents."
Internationally acclaimed talent will perform at the concert, including tenor Jay Hunter Morris, who sings the famously difficult role of Siegfried in Wagner's Ring Cycle with the Metropolitan Opera; Elizabeth Bishop, who has sung leading Wagner roles at the Metropolitan Opera and San Francisco Opera, as Sieglinde; and Metropolitan Opera bass Peter Volpe as Hunding.
Recently, WCPE Opera House host Bob Chapman spoke with Mr. Morris about that fateful afternoon in October 2011 when Metropolitan Opera General Manager Peter Gelb asked him to take over the title role in Siegfried--in less than a week! In an often hilarious interview, Morris--who grew up in Paris, Texas--tells how he managed to turn what could have been a tragedy of massive proportions for the Met into a personal triumph.
Listen to the interview on WCPE's Preview! on Sunday evening, January 13 (6:00-9:00 p.m.). It will air again on the WCPE Opera House, 1/24- the Thursday before the Wagner performance.
North Carolina Opera opens the 2012-2013 season on Jan. 27, 2013 at 3 p.m., with a concert of the music of Richard Wagner, in Meymandi Concert Hall in Duke Energy Center in Raleigh.
About NC Opera:
North Carolina Opera North Carolina Opera was formed in 2010 from the merger of Capital Opera Raleigh and The Opera Company of North Carolina. It is dedicated to presenting operatic performances at the highest level throughout the Triangle. It also has a robust education program that brings opera to schools across Wake County and surrounding counties. North Carolina Opera brings international level artists to Raleigh, Durham and Chapel Hill, and also engages the best in local Triangle talent.
About The Local Arts Series by WCPE and Quail Ridge:
Co-sponsored by WCPE FM and Quail Ridge Books and Music, the Local Arts Series is a monthly free event in which a local arts organization will talk about its mission and one of its upcoming performances. Designed to be as entertaining as it is educational, each event also includes a performance aspect. WCPE and Quail Ridge Books and Music both look forward to working with more arts groups in the future and, together, focusing on community educational efforts.
Quail Ridge Books and Music, 919-828-1588, 3522 Wade Avenue, Raleigh, NC, is an independent shop with a friendly, knowledgeable staff dedicated to providing the best in customer service. Their Music Department specializes in classical, jazz and traditional music and presents a diverse program of free concerts.
With a 30 plus year history, WCPE 89.7 FM is a non-commercial, 100 percent listener-supported, independent station dedicated to excellence in Great Classical Music broadcasting. WCPE is heard worldwide on the Internet in multiple formats, including the next generation IPv6. Because WCPE receives no tax-derived support, the station conducts two on-air fundraising campaigns and two major mail-out campaigns per year to raise needed operating funds. For more information, visit http://www.TheClassicalStation.org or call 919-556-5178.
Media Contact:
Curtis Brothers
919.556.5178
curtis(at)TheClassicalStation(dot)org
###