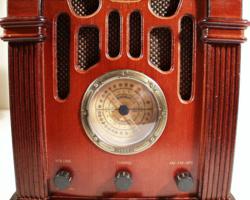 (PRWEB) January 05, 2013
Recordings of "Tucker and Sarah's Merry Little Christmas" are now available via the Virgin Radio website. The show was produced by radio personality Scott Tucker and his co-host Sarah Kelly of 97.5 Virgin Radio. The idea behind the project was to give people who are experiencing personal or financial hardships a chance to have a brighter holiday season.
During surprise visits to unsuspecting listeners, Scott Tucker and Sarah Kelly distributed gifts to help families experience more joy and less holiday stress. The unexpected visits were planned in response to stories solicited from the show's listening audience, who nominated families within the London community. The radio station took nominating entries all through November and selected its recipients from those selections.
According to Virgin Radio's website http://london.virginradio.ca/Contests/Register.aspx?ContestID=164914, through this project, more families will be able to experience the magic of Christmas morning this year.
The presents given away to the winning entries depended on the contestant's interests, as well as their circumstances. On Dec. 6, Tucker and Sarah surprised a 9-year-old boy live on air. The boy, who was a big Justin Bieber fan, received a limited edition concert bag, iPod and headphones designed by international teen superstar.
A slew of prizes to another listener included everything that was on the kids' wish lists. The show's producers presented toys and videogames for her children, including a Nintendo DS and Barbie kit; mall gift cards; Disney on Ice tickets; London Lightning tickets; $500 grocery gift card; restaurant gift cards; and more.The woman was so overtaken by gratitude and emotion that she said she didn't know what to say, to which Sarah Kelly replied: "You don't have to say anything." You can listen to the surprise calls by visiting https://soundcloud.com/975-virgin-radio-mornings.
Sarah Kelly and Scott Tucker continued their impromptu visits to listener homes throughout the month of December. "We're wishing your family a very Merry Christmas, and we hope that every day things get a little easier for you," Scott Tucker told one contestant winner over the phone.The project was presented by the London Police Association with additional assistance from Wal-Mart and the No Frills site, which is located at the Northland Mall in London.
The Virgin Mornings show, which made its debut in August 2012, airs from 5:30 a.m. to 10 a.m. every Monday through Friday. More information is available at Tucker and Kelly's official site at http://london.virginradio.ca/index.aspx.