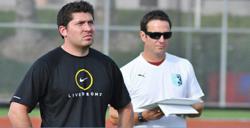 I think this was a great opportunity to showcase our hidden talent up here and help get Minnesota specialists closer to the national spotlight. Brady Beeson.
San Diego, CA (PRWEB) January 06, 2013
Husted Kicking held a successful National Camp Series (NCS) evaluation event for high school kickers, punters and snappers in Minneapolis, MN, on December, 29, 2012 according to kicking coach and Camp Brady Beeson and long snapping coach Kyle Stelter.
"The camp was a great success," says Beeson. "Not only were the campers given the opportunity to compete and see where they stand amongst others, but they were also able to work with professional specialists. I think this was a great opportunity to showcase our hidden talent up here and help get Minnesota specialists closer to the national spotlight."
Long snapping coach Stelter agrees with Beeson.
"Working this camp was great," says Stelter. "Anytime I can work with Brady and get my snappers working with high caliber kickers and punters we all get better! The snappers that came to camp all made huge improvements. As a coach it's always great to see your students succeed that fast!"
The National Camp Series (NCS) was founded by retired NFL kicker Michael Husted. Husted is a kicking coach and the owner of Husted Kicking which is based in San Diego, CA.
Husted says NCS events -which inlcude some of the premiere kicking camps in the country- are not just about evaluating a high school kicking specialist's potential, but about making sure they get quality coaching in the process.
"NCS Associates are some of the best kicking coaches in the country," says Husted. "NCS coaches provide the highest quality instruction to high school kicking specialists around the country. And that is why I am happy to have Brady Beeson and Kyle Stelter as part of the Husted Kicking coaching team."
Husted Kicking coach Brady Beeson was Camp Director for this event.
In his one season as a starter at the University of St. Thomas, Beeson recorded 79 points, set three school records, and helped the Tommies reach an 11-2 season record, and the D3 national quarterfinals. Beeson went and went 5-for-5 in field goals in his three NCAA playoff games. He helped St. Thomas gain its first NCAA playoff berth in 19 seasons.
Long snapping coach Kyle Stelter coached the snappers.
Stelter is considered one of the top long snapping coaches in the nation. He is founder and owner of Special Teams University, and was taught the skill of long snapping his senior year of high school to help his chances of making a college team by his high school coach.
Stelter is a student at the University of Wisconsin River Falls and is pursuing a career in physical education, Health Education, and Adapted Physical Education. In September 2012 Kyle was signed by the Sacramento Mt Lions of the United Football League. Stelter is currently back in WI training and preparing for an opportunity to play in the NFL.
Husted says he created the NCS to give every kicking specialist a chance to 'show and develop' their potential.
"The NCS levels the playing field for those who don't want to get caught up in all of the 'politics' that occurs in the kicking industry," says Husted. "If you can kick, punt or snap, the NCS KIX system will let a young kicking specialist's skills speak for themselves. No excuses. No explanations."
Go here for more information about kicking coach Michael Husted
Go here for more information about the National Camp Series and the dates and location of upcoming NCS events.
Go here for the NCS Kicking Coach Directory.