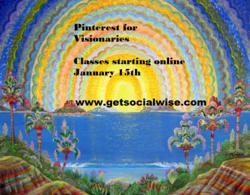 Make your New Year's Resolution stick in 2013. Using a combination of Pinterest and vision boards, you can succeed this year.
Des Moines, IA (PRWEB) January 07, 2013
New Year's is the perfect time to motivate yourself using vision boards. New media meets New Age in a new class called Pinterest for Visionaries. This course shows students how to create interactive, changeable vision boards with Pinterest. Since the time of the caveman, people have used vision boards to to represent what they would like their future lives to be. Since then, vision boards have been featured on Dr. Phil, Oprah, Ellen and other popular TV shows.
According to Joyce Swartz, Author of The Vision Board: The Secret to an Extraordinary Life, Vision Boards are also known as "dream boards", "wish boards", "Treasure maps" "Life Collage", "Wisdom Collage" and other names.
As the fastest growing social media platform, Pinterest lends itself easily to creating vision boards. Pinterest is fun, visually oriented, and easy to use.
Students will bring a list of 5 wishes for 2013, and any digital photographs that are important to them. Student's will leave this class energized, inspired, and ready to greet the new year with a smile. Register today for significant savings
This popular class is ideal for singles, best friends, couples, and anyone who wants to learn how to use Pinterest. Students can attend online in a group, instructor led setting or one on one with a specially trained coach. Instructors are also available to teach Facebook, LinkedIn, or blogging.
For more information on Pinterest for Visionaries, , visit the event page, or
http://www.getsocialwise.com . Classes start January 15th.
For the original blog on this innovative learning process, visit blog
SocialWise Media Group also offers corporate training, group & private training sessions as well.
Ini Augustine
SocialWise Media Group
http://www.facebook.com/socialwisemedia
Twitter: MrsMadBiz
http://www.getsocialwise.com
1-800-343-4864