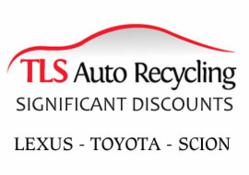 Rancho Cardova, CA (PRWEB) January 06, 2013
TLS Auto Recycling has made a switch to Hosted PBX VoIP Solution, provided by Smartnet Telecom, as a major tool in its day to day operations for their internet based call center. TLS Auto Recycling has hundreds of used parts in-store for all models of Toyota, Lexus and Scion at discounted prices up to 60%. TLS Auto Recycling decided to utilize VoIP technology to increase flexibility and improve communication to give itself a competitive edge.
VoIP refers to Internet Telephone Service. VoIP Technology has been around since 1970's but wasn't used until recently because it required a high speed internet connection. Hosted PBX VoIP Solution by Smartnet Telecom allowed TLS Auto Recycling to make a smooth transition from Traditional Business Phone System to their Hosted PBX Solution; their fully managed solution helps TLS Auto Recycling focus on their sales and improve productivity.
About TLS Auto Recycling
TLS is an auto wrecking, auto recycler and auto dismantler for Lexus, Toyota and Scion cars. They buy salvage cars from Auctions and recycle the parts in a used parts market. TLS has been in business for almost 70 years in the northern California region. TLS uses only clean, undamaged, OEM parts that have been tested in house. The knowledgeable staff at TLS is eager to help any customer with their auto part needs.
Contact Information:
George Trunyan
TLS Auto Recycling
george (at) alltoyotalexusparts (dot) com
(877) 247-1717