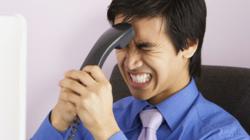 With potentially 80% of callers hanging up when they are sent to voicemail, small companies that continue to depend on this technology are committing suicide
Portland, Maine (PRWEB) January 09, 2013
Who would have imagined that answering services, an old school business, would emerge as the technology that finally kills small business voice mail? In data prepared for USA TODAY, Vonage, an Internet phone company, last year announced the first ever decline in voice mail usage. Vonage suggests younger, less patient users, are leading the exodus, in favor of texting. "They hate the whole voice-mail introduction, prompts, having to listen to them in chronological order," says Michael Tempora, senior vice president of product management at Vonage. One response by Vonage is a new voice-mail transcription service that converts voice messages for delivery as e-mail or text, but that still requires the caller to leave a voicemail, instead of hanging up, which 80% do, according to Fortune in 2006. It's actually easy to imagine text messaging becoming the preferred method of communication for consumers, in a not so distant future. For small businesses it's a different story. Phone answering is critical to their survival.
According to the most recent US Census Bureau statistics there are now 22 million non-employer businesses or solopreneurs, in the US. This number is up from 14 million in 1992, proving undeniably, that a huge shift is quietly occurring in the US workforce. Some experts are predicting independent workers and freelancers will comprise 50% of the US workforce (80 million) by 2020. The bad news is this means substantially increased competition for these solopreneurs.
With potentially 80% of callers hanging up when they are sent to voicemail, small companies that continue to depend on this technology are committing suicide. And, transcription technology like Google Voice, still requires the caller to leave a voice mail and doesn't solve the potential missed-customer-call dilemma.
The emergence of cloud based contact center software, combined with the increased usage of smartphones and tablets by small businesses, is potentially creating a perfect storm that could finally put an end to small business voice mail. One company in Maine, Main (without the e) Virtual Office, is using cloud based software that allows their receptionists to see a considerable amount of information about their small business customers, when doing telephone answering for them. Their customers can sync their online calendars and also update receptionists in real time, from their mobile phones, regarding their availability to receive a transferred call.
"This is a huge asset to both them and us, says Jim Plunkett of Main Virtual Office. Our business model is different than our competitors. We strive to spend less time on calls, so that we can offer this service at a price that is affordable to these small businesses. Knowing our customers availability helps us do that and also seem as if we are right in the customers office. With most answering services having entry level pricing in the $200/month range, our service, at $79/month, is usually less than what our customers pay for their cellular service. This has been the main reason there hasn't been a greater adoption of answering services, especially by solopreneurs. The other reason is that answering services have traditionally had a bad service reputation and it's no wonder, as they require combining a human interaction with, until recently, complex telecommunications equipment."
According to Plunkett, Main Virtual Office has "optimized" the configuration of their cloud based system, to ensure each call is answered live and when callers are put on hold, they are never there longer than twenty seconds. Plunkett says, "this "optimization" algorithm is a trade secret. Instead of having to dial in and listen to their messages, our customers access and manage them from the web or from a mobile app just like they do their email.
Given the shear number of solopreneurs in the US, it will be interesting to see if this hybrid service/mobile app solution takes hold with the millions of independent workers and small businesses in the US.