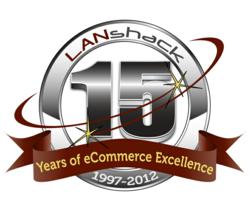 15 years of success online due to offering quality products and our attention to customer service
Beachwood, NJ (PRWEB) January 07, 2013
LANshack.com, an online distributor of high quality datacom products - such as copper cabling hardware, fiber optic cable assemblies, tools and testers – marks its 15th year of distinction in the structured cabling industry. LANshack.com sells datacom products to companies in over 50 different countries and provides solutions for the government, military, Fortune 500, academic, municipal, private and consumer sectors.
"Whether the purchase is for a large government project or a D-I-Y consumer installing a home network, our commitment to offering quality products and our attention to customer service is the same. Those are the two most important factors that have made the business successful and allowed us to prosper for 15 years during some very tough economic times," states Tony Casazza, founder and President.
Plans are in place to celebrate this milestone during the coming year with new features throughout the business, starting with a redesigned and improved 4th generation website that was just launched. The upgraded user-friendly site includes many new features to aid in the selection and purchase of network cabling infrastructure products, from streamlined navigation to expanded informational offerings, a quote generation system, and an easy checkout process. The best way to be informed of new products and promotions that will be offered throughout the year is to sign up for the LANshack.com e-newsletter.
Because Casazza started in the industry as an installer himself, he takes using best practices seriously and follows through on that by providing How-To instructions for installers. LANshack has just increased its popular video library on installation practices and plans to add to it substantially in this anniversary year. The instructional videos can be accessed on the LANshack.com homepage or directly from LANshack.com's YouTube page. To keep busy customers easily informed on the latest news and issues in the industry, LANshack writes several short articles each week.
To mark the anniversary, LANshack has launched a contest for the month of January. To enter, customers are asked to provide feedback about "how LANshack has provided you great service and/or has helped your organization over the past 15 years." All participants are entered to win a QuickTreX Network Administrator Tool Kit, which is a $590 value. The contest runs from January 4th until January 31st and the winner will be chosen at random on February 1, 2013.
Company History
The site was originally launched in 1997 as atcomservicesinc.com and later changed in 1999 to LANshack.com to better reflect the nature of the business. At that time, the structured cabling industry was in its infancy and the website was the first e-commerce site to sell cabling, connectivity and network components. By contrast, most sites at that time were strictly informational one or two pages without any e-commerce capability.
Prior to and during that time Tony Casazza was in the business of structured cabling design and installation. Within two years, the website was generating enough revenue to allow Casazza to sell off the installation and design portion of the business so that he could focus directly on sales through the internet site. Soon afterward, the industry experienced a downturn that claimed the life of many telecom related businesses, both large and small. LANshack.com had resisted the temptation to over-expand during the dot-com frenzy, then persevered through the slump, managed to weather the storm, and continued to prosper.
Outlook
As time and technology progress, LANshack plans to add to their product line by adapting to changes within Fiber Optic offerings in the areas of FTTH (Fiber To the Home), FTTD (Fiber to the Desk), and also Fiber for Military applications. The Industry trend has skipped over Cat 7 and has gone to Cat 8, which they plan to offer soon.
LANshack also plans to keep their website current with new content and products, shares Casazza. "As I look forward, I can predict a bright and solid future. We will, of course, still work on the tried and true principles of longevity through diligence, but we will surely keep our fingers on the pulse of our industry and continue to grow our website in ways that not only educate our customers, but also educate us. We will have tech tips and an improved newsletter, a bevy of technical articles continuously being added, and a timely intriguing blog. We will adapt with the changes within the market to continue to be an industry leader."
# # #
About LANshack.com
Founded in 1997, LANshack.com is an online distributor of high quality datacom products - such as copper cabling hardware, fiber optic cable assemblies, tools and testers - catering to the low voltage cabling industry for use in premise networks, security, and electrical applications. LANshack.com sells datacom products to companies in over 50 different countries and provides solutions for the government, military, Fortune 500, academic, municipal, private and consumer sectors. To obtain additional information, call LANshack.com at 888-568-1230 or visit the website at http://www.lanshack.com