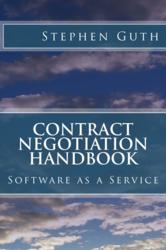 When contracting for cloud services, you're impliedly putting a lot of trust in the service provider. Without a comprehensive cloud computing contract or SaaS contract, you're facing huge risks. My book shows you how to contract those risks away.
Washington, DC (PRWEB) January 06, 2013
In his most recent book, author and attorney Stephen Guth zeros in on the high-stakes negotiations of cloud computing and software as a service (SaaS) contracts. In the Contract Negotiation Handbook: Software as a Service, Guth exposes real-life cloud computing contract negotiation tactics and ploys in the form of a practical, easy-to-understand handbook that can be used by seasoned professionals and novices alike to improve their negotiation skills. Explains Guth, "Whether you're an attorney, a procurement professional, or just looking to get the best possible deal, this book has something for you. Don't negotiate your next cloud computing contract without it."
Covering specific cloud computing contract topics ranging from audit rights to data privacy to service levels, Guth dissects a cloud computing contract line-by-line with easy to understand explanations, preparing potential cloud subscribers to successfully counter service provider negotiation ploys.
Guth describes his approach in explaining the contract template included in the book, "I deconstruct the Master Software as a Service Agreement section-by-section and provision-by-provision, describing and explaining any tips, tricks, or traps. This book isn't an academic treatise on cloud computing contract negotiations—it's a practical, how-to guide."
Based on years of real-life experience, the practical negotiation tactics described in Guth's book could save subscribers money on their next cloud computing procurement and protect them from taking on unnecessary risk.
Says Guth, "There are a ton of advantages in moving to the cloud, but remember that your data and your functionality are not on your servers anymore—they're in the hands of the service provider, usually with other tenants in the public cloud. When contracting for cloud services, you're impliedly putting a lot of trust in the service provider. Without a comprehensive cloud computing contract or SaaS contract in place, you're facing huge risks."
The book covers key contract provisions to mitigate risks specific to cloud computing and SaaS. Guth explains the financial and reputational risks, "Without robust service levels, you could suffer service performance issues that dramatically impact your business operations. Financial risks also include the ongoing viability of a service provider. Those risks, however, are not nearly as painful as responding to reporters' or government investigators' questions regarding deficiencies related to the privacy and security of your data. My book addresses all of those risks and more through clear contract language."
The book includes a free downloadable Master Software as a Service Agreement contract template.
This latest book by Guth is available on Amazon.com in print and Kindle format. Guth is also the author of "The Contract Negotiation Handbook: An Indispensable Guide for Contract Professionals," "The Vendor Management Office: Unleashing the Power of Strategic Sourcing," and "Project Procurement Management: A Guide to Structured Procurements." Guth's other books are available on Amazon.com or can be found at Guth's blog at http://www.StephenGuth.com where he covers a wide variety of contracting, negotiation, and procurement topics.