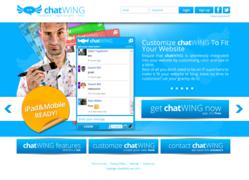 New York, NY (PRWEB) January 08, 2013
Chatwing, an online provider of chatroom applications and widgets, has announced a solid partnership with Blogging Heaven. The partnership will run its course for 2013 and beyond, opening the doors for more web tutorials, information, global connectivity, and tech development. One of the many goals of the partnership is to promote web application usage and spread awareness for the new generation. Additionally, Chatwing and Blogging Heaven will solidify the way bloggers and web users connect to the world.
Chatwing chat software has been around for more than four years. Its developers are always researching about various trends and innovations that can be introduced to many people. Chatwing's newest chatroom app is designed to spread information and connect people from many parts of the world. The chat platform also offers wide customization options, social media integration, and advanced admin functions.
Blogging Heaven is also a website full of everyday online tricks and secrets. Everyday, there is hundreds of blogging information presented in the website. This data is useful to the traditional blogger, especially to the web user who is frequently surfing the World Wide Web. With Chatwing chat software integration, Blogging Heaven can provide an interactive and online chat lounge for all of its visitors. Moreover, bloggers can also learn how to install the Chatwing widget for their blogs.
The partnership of Chatwing and Blogging Heaven is also focused on decreasing the major effects of misinformation. This is applicable in the early onset of 2013—the year where the information superhighway will undergo new developments. The importance of Chatwing chat box in the modern age is also inevitable with Blogging Heaven's data spectrum. In the coming months, these two sites will bring more useful data in various online communities.
About Chatwing.com
Chatwing.com specializes in the new field of website chat. Over years, the development team has introduced live chat widget for hundreds and thousands of blogs. The application bridges people from many parts of the world, creating global synergy through the Internet. The shout box can be installed in just seconds, and it can be used for varying purposes such as leisure and Internet marketing. It also allows a user to customize the size, color, and name of the widget.
About Blogging-heaven.com
Blogging Heaven is a free resource for blogger and Wordpress tutorials, social media news and reviewsws, blogging tips, practical Search Engine Optimization techniques and blog widgets. Blogging heaven blog succeeded in getting over 1500+ subscribers and loyal readers in just 4 months and it is growing daily.