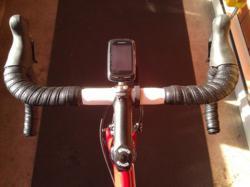 In my opinion these mounts ought to come standard equipment with every bike computer Garmin sells because they improve safety, its like airbags in a car - pretty standard stuff now
Bozeman, MT (PRWEB) January 07, 2013
The Garmin Edge out front bike mount has been named the best new cycling accessory for 2013 by the Heart Rate Watch Company.
"Out front bike mounts emerged in the pro peloton a couple years ago and the big advantage is positioning all your data forward so you do not have to look down and take your eyes off the road", says Rusty Squire, President of the Heart Rate Watch Company. He adds, "These kinds of major improvements to safety and useability at the consumer level deserve to be awarded".
FIRST USER REPORT
Team Rockford member Ryan Hamilton rode the new mount package on January 5th and said the mount was very solid and much better than a stem mount. Hamilton said, "You can push the touchscreen firmly and it doesn't have the movement issues of a stem mount with the rubber ring attachments".
Garmin is rumored to be coming out with an entirely new bike computer line this month which will likely take some attention off the bike mount system says Squire. "In my opinion these mounts ought to come standard equipment with every bike computer Garmin sells because they improve safety, its like airbags in a car - pretty standard stuff now", says Squire.
Several members of the Rockford Cycling team, which is jointly sponsored by Garmin and the Heart Rate Watch Company, are already out using the new Garmin Edge Out Front bike mount and are looking forward to adding the new 2013 Garmin bike computers to their kit soon along with the Garmin Vector power pedals when they arrive.
"While nobody knows for sure when the Garmin Vector power pedals will arrive we are pretty confident that they won't lag far behind Garmin's new 2013 line up of bike computers", says Squire. He adds, "Lots of rumors have been flying around from screen positioning to live Strava, so I guess we'll all know pretty soon just what Garmin has in store for the next level of bike computers".
2013 promises to be a very exciting year for cycling technology according to Squire.