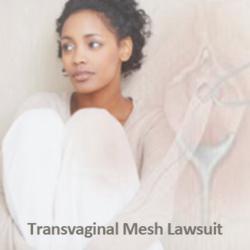 Wright & Schulte LLC offers free lawsuit evaluations to victims of transvaginal mesh injuries following implantation of transvaginal mesh. Visit www.yourlegalhelp.com, or call toll-FREE 1-800-399-0795
Columbus, OH (PRWEB) January 19, 2013
Wright & Schulte LLC, a leading nationwide law firm and Ohio personal injury law firm, has filed a transvaginal mesh lawsuit on behalf of an Ohio woman who suffered significant and permanent injuries, allegedly due to American Medical Systems, Inc.'s Elevate pelvic mesh device. The complaint, which was filed on November 5, 2012, is just one of many transvaginal mesh lawsuits, also known as a vaginal mesh lawsuit or bladder sling lawsuit, currently pending against American Medical Systems in In re: American Medical Systems, Inc., Pelvic Repair Systems Products Liability Litigation - MDL No. 2325, a consolidated litigation now underway in U.S. District Court, Southern District of West Virginia. (Case No. 2:12-cv-07400)
Wright & Schulte LLC offers free vaginal mesh lawsuit evaluations to victims of transvaginal mesh injuries. If you or someone you love suffered serious, life-altering complication following implantation of transvaginal mesh, please visit yourlegalhelp.com, or call toll-FREE 1-800-399-0795 to learn more about your options for legal recourse.
In addition to the American Medical Systems litigation, additional consolidated proceedings involving other transvaginal mesh manufacturers have been established in the Southern District of West Virginia, including In re: Ethicon, Inc., Pelvic Repair System Products Liability Litigation- MDL No. 2327; In re: Boston Scientific Corp., Pelvic Repair Systems Products Liability Litigation - MDL No. 2326; and In Re Coloplast Corp. Pelvic Support Systems Products Liability Litigation. Court records indicate that the first trials in the American Medical Systems, Ethicon and Boston Scientific multidistrict litigations will begin in December 2013, with the first trial involving an American Medical Systems case. The first trial in the C.R. Bard, litigation will begin in February 2013.
In a Public Health Notification issued on July 13, 2011, the U.S. Food & Drug Administration (FDA) revealed that it had received a total of 2,864 reports of complications involving transvaginal mesh products between 2008 and 2010. According to the Notification, the most frequent complications reported to the FDA for surgical mesh devices for pelvic organ proplapse repair included mesh erosion through the vagina (also called exposure, extrusion or protrusion), pain, infection, bleeding, pain during sexual intercourse (dyspareunia), organ perforation, and urinary problems. There were also reports of recurrent prolapse, neuro-muscular problems, vaginal scarring/shrinkage, and emotional problems. At the time, the FDA warned that transvaginal mesh has no clear advantage over non-mesh methods for treating pelvic organ prolapse, and may even pose additional risks.
http://www.fda.gov/MedicalDevices/Safety/AlertsandNotices/ucm262435.htm
The FDA is currently considering a recommendation made by its Obstetrics-Gynecology Devices Panel in September 2011 to reclassify transvaginal mesh used in pelvic organ proplapse repair from Class II to Class III. As part of its review, the agency has asked the manufacturers of transvaginal mesh products to conduct post-market safety studies of to address concerns involving the effectiveness and safety of these devices.
http://www.fda.gov/MedicalDevices/ProductsandMedicalProcedures/ImplantsandProsthetics/UroGynSurgicalMesh/default.htm
Wright & Schulte LLC, a leading personal injury firm, is dedicated to the belief that America's legal system should work for the people. Every day, the attorneys of Wright & Schulte LLC stand up for the rights of people who have been injured or wronged by defective drugs and their side effects, complications from defective medical devices, and unsafe consumer products, and fight tirelessly to ensure that even the world's most powerful corporations take responsibility for their actions. If you're looking for a law firm that will guarantee the aggressive and personal representation you deserve, please do not hesitate to contact Wright & Schulte LLC today. Free case evaluations are available through yourlegalhelp.com, or call 1-800-399-0795.
Contact:
Wright & Schulte LLC
812 East National Road
Vandalia, Ohio 45377
1-800-399-0795