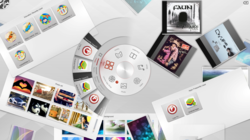 Our alliance with BlueStacks puts us in a unique position to offer the most popular games and apps on flagship PC products
Las Vegas, NV (PRWEB) January 07, 2013
BlueStacks continued its OEM winning streak by announcing a global distribution deal with Lenovo, the world's largest PC maker, for preloading the App Player software and service on Lenovo's Idea-branded consumer PCs.
"Innovation is vital to leading in the PC+ world, and we're winning by continuing to push the limits in both software and hardware," said Lenovo's VP of Worldwide Marketing. "Our alliance with BlueStacks puts us in a unique position to offer the most popular games and apps on flagship PC products like the Horizon Table PC in order to give our customers engaging user experiences."
BlueStacks has signed a series of major distribution deals with global brands and manufacturers including Asus, MSI and AMD with more than 100 million PCs preloaded with the App Player software in 2013. Recently, BlueStacks also announced that it has exceeded 5 million organic downloads from its web site, BlueStacks.com. At CES 2013, BlueStacks is showcasing the latest version of the App Player designed and optimized for Windows 8 Ultrabooks, laptops and tablets. With the BlueStacks App Player, Lenovo's end users can now use the same top apps on Win8 PCs that they already enjoy on their smartphones. With BlueStacks' unique ability to link the smartphone to the PC via the cloud, Lenovo's end users can seamlessly sync their favorite apps, data and SMS text messages between their smartphone and PC.
"As the PC market leader and a growing smartphone maker in China, it's huge that Lenovo is implementing our vision of creating a blended experience across smartphones, tablets and PCs," said Rosen Sharma, CEO of BlueStacks. "Consumers want access to all of their apps across all devices. Artificial barriers and silo-ed ecosystems have long been a source of confusion and frustration. The digital world is a celebration of heterogeneous devices. My PC, tablet, smartphone and TV may or may not be from the same brand, but that does not mean that my apps should not work across devices. To take it a step further, my game state and app data should also sync."
"BlueStacks brings an innovative software solution for merging mobile and PC with cloud-based services to create continuous user engagement," said Tim Bajarin, renowned industry analyst and President of Creative Strategies. "Lenovo's leadership in the PC market and their growing strength in smartphones and TVs positions them perfectly to leverage the unique capabilities of BlueStacks."
Media can see the integrated software experience at the Lenovo Showcase inside the AquaKnox Restaurant at the Venetian Hotel and also at the Lenovo booth CP-33, CES Central Plaza at the Las Vegas Convention Center. Contact Lenovo media relations to arrange an appointment, Kristy Fair, krisfair@lenovo.com.
About BlueStacks
BlueStacks is a software company known for its "App Player" that enables Android apps to run on Ultrabooks, Notebooks, Desktops, All-in-One PCs and Tablets. In addition, BlueStacks is merging the mobile and PC ecosystems by sync-ing mobile apps, SMS text messages and data between smartphones, tablets, PCs and TVs. BlueStacks is privately held and headquartered in Silicon Valley, USA with global offices in India, Taiwan and Japan. The company has raised 15M in funding from Andreessen-Horowitz, Redpoint, Qualcomm, For more information visit BlueStacks.com, or join their over 1,000,000 Facebook fans.
BlueStacks @ CES 2013: Booth #75504, TechZone @ Eureka Park, Venetian Hotel, Las Vegas
BlueStacks website: http://www.bluestacks.com
BlueStacks Facebook: http://www.facebook.com/bluestacksinc
BlueStacks Twitter: @bluestacksinc