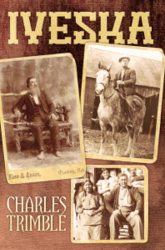 Black and white photographs scattered throughout the book document Trimble's personal history and that of American Indians in a broader sense.
OMAHA, Neb. –
(PRWEB) January 08, 2013 -- Chuck Trimble has worked for justice and equality for American Indians for decades, drawing on his own experiences as an Iyeska, a mixed-blood Oglala Lakota Indian. This new book features Trimble's musings on his own life and that of his Indian brothers and sisters, as well essays on issues facing American Indians across the country. Black and white photographs scattered throughout the book document Trimble's personal history and that of American Indians in a broader sense.
"Iyeska" in Lakota translates "speaks white," referring to children of the earliest white traders and settlers who married into Sioux society, known as half-breeds by some on both sides of the equation. In "Iyeska," Trimble offers memories about growing up with a tender-hearted mother who lived up to her obligation to feed a lonely old woman, old men sitting in front of the general store talking about tribal politics, and the generosity of sharing their Christmas gifts with poorer children. Trimble also shares stories from his childhood at the Holy Rosary Mission Indian boarding school, which he attended nine months of the year from age 4. The U.S. government established the schools and contracted with Christian churches to "civilize tribal youths with long periods of separation from family and indigenous religion." He managed to graduate from the school, surviving loneliness, bullying, detentions and tasteless food.
Trimble's matter-of-fact description of Indian-interest organizations start with the Society of American Indians and continue to the National Congress of American Indians, National Council of Indian Opportunity and National Tribal Chairmen's Association. The NCAI, for instance, works on such things as sovereignty, treaties, Alaska Native land rights, water rights and the right to vote. He also explores the power of the Native press and writes about "unsung heroes" of Indian Country who fought for the rights of Indians and tribal government in the 20th century.
Trimble calls for balance in thinking about Indian history, claiming that although conditions were not always easy, taking refuge in being a victim becomes a prison in itself. As he writes, "Beware of those history courses and social studies that dwell only on the terrible injustices and treatment of Indiana people, and that ignore the great endurance and resilience of our people. Do not become a prisoner of victimhood; be a victor instead, like the great chiefs and warriors in our tribes."
Author Charles Trimble, a member of the Oglala Lakota Nation, was born in 1935 and raised on the Pine Ridge Indian Reservation, one of 13 siblings. He was principal founder of the American Indian Press Association in 1969 and was executive director of the National Congress of Americans Indians from 1972 to 1978. He and his wife, Anne, have been married 50 years.
----------
For additional information, please visit http://www.CharlesTrimble.com.
Iyeska
Charles Trimble
Dog Ear Publishing
ISBN: 978-1-4575-1483-8 184 pages $16.95 US
Available at Ingram, Amazon.com, Barnes & Noble and fine bookstores everywhere.
About Dog Ear Publishing, LLC
Dog Ear Publishing offers completely customized self-publishing services for independent authors. We provide cost-effective, fast, and highly profitable services to publish and distribute independently published books. Our book publishing and distribution services reach worldwide. Dog Ear authors retain all rights and complete creative control throughout the entire self-publishing process. Self-publishing services are available globally at http://www.dogearpublishing.net
and from our offices in Indianapolis.
Dog Ear Publishing – self-publishing that actually makes sense.