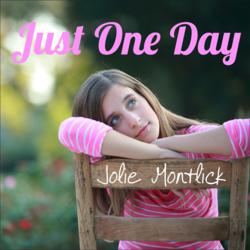 Jolie Montlick is a very talented singer and songwriter. Her music touches people's hearts, and you find yourself singing it throughout the day.
Atlanta, GA (PRWEB) January 09, 2013
11-year old singer, songwriter and national anti-bullying spokeswoman Jolie Montlick announces the official release of her newest single "Just One Day," right after her anti-bullying music video "My Song For Taylor Swift" went viral and generated over 1.6 million hits on YouTube.
When listening to "Just One Day", the YouTube's sensation's message of love conveys a total and complete sweetness and innocence rarely heard in a love song. The simplicity of her lyrics and imagery, for example, holding hands on the beachfront, exemplifies the purity of the two youth just discovering the onset of love. The reoccurrence of the sunshine imagery adds warmth and a sense of naturalness to this wonderfully sweet scenario.
According to Jolie, "Just One Day is about a person who means the world to you... where you literally go somewhere just to see them. And then when you do, everything is ok because they are the sunshine of your day. It is a happy song, where when you listen to it you feel good.
Many people are raving about "Just One Day's" catchy tune and upbeat tempo, stating, "this is one of those songs you find yourself singing throughout the entire day!" Others have made comments that this is "good music you can enjoy with your whole family."
Jolie's anti-bullying music video "My Song for Taylor Swift" has been seen across the globe, with viewers in over 100 countries. Jolie is donating 100% of the net proceeds from the sale of "My Song for Taylor Swift" to the Ambassador for Kids Club (a4kclub.org), a national anti-bullying organization that gives kids and parents the information they need to prevent, stop, and report bullying and child abuse.
About Jolie:
When not in school, wowing her fans or writing music, Jolie generously donates her time and efforts to helping others. As a National Spokesperson for A4K, Jolie regularly appears in public service announcements and television interviews to encourage kids to not be silent bystanders, and to speak up and take positive actions when they see or are faced with bullying. Jolie is also a Second-Degree Black Belt and two-time State Tae Kwon Do champion who has helped teach self-defense to thousands of kids. For more information about Jolie Montlick and her campaign against bullying, please visit http://www.JolieMontlick.com. To purchase Jolie's songs please visit iTunes, Amazon or your favorite digital music distributor.