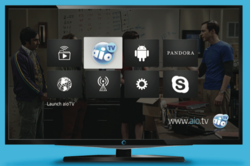 unified OTT and linear user experience for operators worldwide
LAS VEGAS, NV (PRWEB) January 09, 2013
Today at the 2013 International Consumer Electronics Show aioTV announced the launch of PassBox, the latest enhancement to their next generation video aggregation platform; to enable cable, satellite and telco TV providers with the ability to deliver complete channel line ups, over-the-top video content and new IP video channels in a single interface, with a seamless experience without a costly set-top box replacement.
"Consumers are frustrated dealing with the multiple eco-systems required to deliver connected Internet services to their TV. Video game consoles, Blu-ray disc players, streaming media set-top boxes, connected TVs themselves all bring the Internet to the TV in a different way on the same screen leading to a confusing user-experience" said Mike Earle, aioTV CEO.
The PassBox solution utilizes an existing set-top box and combines all services into one on-screen experience that creates the impression of a single service without requiring the end user to switch inputs on their TV.
"By providing operators an augment versus replace strategy there's an immediate solution to a problem that multi-channel operators have been trying to solve – credit and control within established conditional access systems. Getting credit for the IP services that consumers want access to and keeping control of the TV experience" added Earle.
PassBox provides operators a way to add interactive and personalized IP services to linear subscriptions. Consumers will immediately feel as if their service has been upgraded to a more modern and highly connected experience, all without having to change providers or equipment.
The PassBox solution can be tailored to support the specific needs of operators, CE companies, content owners and developers.
About aioTV
aioTV is a next generation video platform that aggregates video content to deliver a unified rich video experience across connected devices. The company's aioTV and flagship business products PassBox, aioCloud and aioPro are enabling platforms for service providers, consumer electronics manufacturers and media companies designed to curate multiple sources of video content into a TV-like experience. aioTV aggregates long form video content from the web (OTT) and licensed content (VOD, TV Everywhere VOD and linear channels) into a consumer experience that runs on iPad, Android tablets, PC, MAC, Google TV, iPhone, Android phones, Android set top boxes and Amino set top boxes. For more information, visit AiO-TV.com.