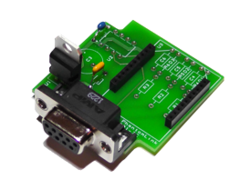 Albuquerque, NM (PRWEB) January 07, 2013
PhantomLink is pleased to announce the release of its XBee / RN-XV WiFly breakout board. This simple circuit board provides a convenient way to integrate Wi-Fi and web-based monitoring into electronic hardware.
Those who have used either the XBee or RN-XV WiFly module know that integration into existing hardware can be a challenge. PhantomLink solves this problem by providing power and data to the module through a simple DB-9 (serial data) connector. The board features an onboard power regulator along with a socket for a XBee / RN-XV module. It can be powered by any 5-15VDC source, making it compatible with most electronic hardware designs. Visit http://www.phantomlink.com/lab/breakout.aspx for more information.
The XBee / RN-XV breakout board is based on the same design used for the PhantomLink Wi-Fi project, making it compatible with PhantomLink's do-it-yourself alarm monitoring and event notification service. Technical details can be found on the PhantomLink webpage. Electronics hobbyists are encouraged to participate in this project to develop and expand the capabilities of the technology.
PhantomLink.com was developed by and is operated by Phantom Data Services, LLC, a New Mexico limited liability company specializing in advanced website development and web-enabled technologies.