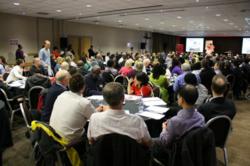 I will show them exactly how they could use such strategies using real figures, real houses, and real transactions
(PRWEB) January 07, 2013
The latest research from the Royal Institution of Chartered Surveyors proves how some lettings agents are abusing and cashing in on the rental boom. Apparently, unscrupulous lettings agents are charging unfairly high fees for aspects of renting such as credit checks and renewing contracts.
For renters and aspiring home buyers who are conserving their moneys for the required deposit in a home purchase, this is truly devastating.
"It's truly sad to know that there are individuals and families who are losing loads of money while being stuck in the lettings sector. The deeper they are in debt, the harder it will be for them to get a loan and buy their own house," Otton explained.
And this is one of the reasons why Otton will be coming to the UK in 2013 to conduct a 3-day conference. "I will share innovative and creative strategies to help renters and aspiring homeowners purchase their own home. I will show them exactly how they can use these strategies using real figures, real houses, and real transactions," Otton said.
How to Buy a House for a Pound
Rick Otton has recently published a book, "How to Buy a House for One Dollar". This real estate book details the basic principles of Otton's creative real estate strategies with specific explanations of each strategy and how exactly to use the strategies in real life situations.
Buying a house for a dollar has already been implemented years ago specifically in the purchase of well-known lands, properties, and establishments – including the London Evening Standard newspaper, which was sold for £1.00 in 2009.
Mr. Otton has taken this principle and developed creative and innovative property investment strategies to build a property portfolio with little capital. "The principle may be a bit new to you and may sound impossible to work. But it does work and the success of my students is a testament to that." Otton said.
David Tiffin, is one of the many students of Otton. "Since attending Rick Otton's course of 'How to Buy a House for Pound' or 'Rent-to-Buy' 13-14 months ago, I was able to buy 4 houses for a pound and was able to gather several buyers who bought the properties through rent-to-buy. Most of them are ready to exercise their options, allowing me to cash out. It's fantastic!"
You can learn how to buy a house for a pound – whether you're buying out of a personal need or whether you are thinking of purchasing investment properties – by attending Otton's upcoming conference in the UK.
Grab your ticket to Rick Otton's Zero Debt Property Cashflow Conference 2013 here: http://www.ricotton.co.uk/conference
About Rick Otton
Rick Otton has spent decades making money by snapping up inexpensive real estate and putting it to work building wealth. Now, he's teaching other Aussies how to do the same.
Otton is the founder and CEO of We Buy Houses, which operates in the U.S., U.K., Australia and New Zealand putting his strategies to work every day.
Otton got his start in alternative real estate investment in 1991 and within a year acquired 76 properties. In years after, Otton made a fortune using his low-risk, high-reward strategies to inexpensively acquire real estate.
Now, Otton wants to share the wealth by sharing the wisdom, teaching Aussies how to buy and sell real estate without cutting banks and other middlemen in on the deal.
Otton has been featured in a variety of television programs and magazines, including Today Tonight, A Current Affair, Australian Property Investor and more.
You can learn more about Otton and how to invest in residential real estate without using banks at http://www.rickotton.co.uk.