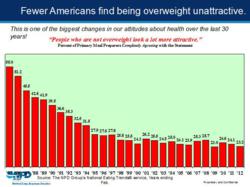 "Americans still want to lose weight, but we are seeing a change in attitudes about being overweight," said Harry Balzer, vice president, The NPD Group and author of Eating Patterns in America.
Port Washington, New York (PRWEB) January 07, 2013
The NPD Group, a leading global information company, has been tracking Americans' dieting habits for nearly 30 years and the percentage of adults on a diet has tumbled. About 20 percent of adults report they are on a diet, down from a peak of 31 percent in 1991 according to NPD's National Eating Trends® food and beverage market research. Women are leading the decline in dieting. In the past ten years, the percentage of women on a diet has dropped by about 10 points. In 1992, 34 percent of women told NPD they were on a diet; and in 2012, 23 percent of women reported being on a diet.
"Our data suggests that dieters are giving up on diets more quickly than in the past. In 2004, 66 percent of all dieters said they were on a diet for at least 6 months. In 2012, that number dropped to 62 percent. Perhaps people are not seeing results quickly enough," said Harry Balzer, vice president of The NPD Group and author of The 27th Annual Eating Patterns in America Report. "Americans still want to lose weight, but we are seeing a change in attitudes about being overweight," said Balzer.
Fewer Americans View Overweight as Unattractive
Last year, twenty-three (23%) percent of Americans agree that people who are not overweight look a lot more attractive. That number is down substantially from 55 percent of Americans in 1985.
"This is one of the biggest changes in our attitudes about health over the last 30 years," said Balzer.
50 Million Americans Are on a Diet
Starting a new year on a diet remains a tradition in this country. The lowest point for dieting is always the last two weeks of the year according to NPD's Dieting Monitor, which examines top-of-mind dieting and nutrition-related issues facing consumers. In 2012, NPD estimates that 34 million adults were on a diet during the holidays.
"But during the first two weeks of January, our data suggests that number jumps 47 percent to 50 million adults now on a diet," said Balzer, national expert on food and diet trends. "There will always be adults who make dieting a lifestyle. Twenty-seven percent of all dieters in 2012 followed a diet for more than a year, which is up from 22 percent in 2004. I hope they are not still losing weight and perhaps being on a permanent diet is a lifestyle choice," said Balzer.
-30-
Harry is available to comment on what's behind the numbers and what's happening on the eating and dieting scene. Harry appears regularly on radio and Television and in print.
The NPD Group collects dieting information through two separate research services:
Dieting Monitor
The Dieting Monitor tracks consumers' awareness of and participation in branded diet types. The Dieting Monitor also tracks consumers' label reading behavior as well as concerns over intake of food components, such as carbohydrates, trans fats, sugars, etc. Reported changes in consumption of numerous foods are also tracked along with attitudes on health-related issues. These data are based on a U.S.-representative group of approximately 1,000 adults (18 and older) per survey period.
National Eating Trends® (NET®)
The NPD Group's National Eating Trends® (NET®) has been continuously tracking the eating habits of U.S. consumers since March 1, 1980. The annual NET sample consists of 2,000 households containing approximately 5,000 individuals. The sample is divided into fifty-two sub-samples and each week a group of nearly sixty households begin recording all the foods and beverages consumed by all household members. Each household maintains a daily "eating diary" for two weeks.
About The NPD Group
The NPD Group provides global information and advisory services to drive better business decisions. By combining unique data assets with unmatched industry expertise, we help our clients track their markets, understand consumers, and drive profitable growth. Sectors covered include automotive, beauty, entertainment, fashion, food / foodservice, home, office supplies, sports, technology, toys, video games, and wireless. For more information, visit npd.com.