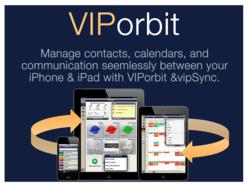 We're excited to exhibit at Macworld iWorld 2013 in San Francisco where we will not only demonstrate the latest versions of VIPorbit, but we will be debuting new products currently in development as well, said Mike Muhney, CEO & Co-Founder.
Dallas/Fort Worth, Texas (PRWEB) January 07, 2013
Featured by USA Today, Forbes, and PCWorld, VIPorbit Software Int'l (http://www.viporbit.com), one of the industry's leading providers of contact management apps, is excited to announce updates to the iPhone and iPad apps. The new VIPorbit updates include several enhanced features, including a new syncing capability for users with VIPorbit on both an iPhone and iPad.
VIPorbit is led by co-founder and CEO Mike Muhney. As the co-inventor of ACT!, Muhney is internationally regarded as expert on building business relationships and relationship management software. "We are dedicated to providing the most robust relationship management experience available on the iPhone and iPad—not just another useful app but full-featured relationship management software that empowers users to build relationships and grow their businesses," said Mike Muhney. "We're excited to exhibit at Macworld iWorld 2013 in San Francisco where we will not only be demonstrating the latest versions of VIPorbit for iPhone and iPad, but we will be debuting new products currently in development as well."
VIPorbit is the best way to manage contacts, calendars, and communication, all in one app on the iPhone and iPad, helping users manage and build relationships on mobile devices that they love to use and have with them all the time. VIPorbit integrates contacts with the calendar, so users get instant access to relationship details, quick scheduling, easy communication, and access to social media. A sequential log of all relationship activity is created automatically, providing a complete relationship history for each contact. Users can also record unlimited date-stamped notes for each contact.
The app is designed around the concept of Orbits, allowing users to easily organize contacts into meaningful groups that can be leveraged to build relationships. The product is designed for contact-centric businesspeople, including entrepreneurs, business owners, salespeople, Realtors®, consultants and service professionals in industries such as financial, legal, medical, etc.
The new version allows users to:

Customize 14 user-definable fields
Message an Orbit via email or SMS
Import iOS contacts, Google Contacts, Facebook friends, and Twitter and LinkedIn connections
Import calendar events from iCal and Google Calendar
Sycning for users with VIPorbit on multiple devices
And more
Praise for VIPorbit
"VIPorbit gives you everything you need to stay on top your business relationships. It manages your contacts, schedule, tasks, email, social feeds, and more—all in one easy-to-use app. And, it's affordable and available for the iPhone and now the iPad—two platforms widely used by businesspeople," said Carmine De Santo, founder and publisher of i.Business Magazine.
Pricing and Availability
VIPorbit for iPad is US$14.99 and VIPorbit for iPhone is US$9.99. VIPorbit Lite for iPad and VIPorbit Lite for iPhone are free versions limited to 100 contacts. With the release of VIPorbit v2.5, users with multiple devices can subscribe to vipSync, which syncs VIPorbit data between two devices. All versions of VIPorbit can be downloaded from the App Store.
Company Information
VIPorbit Software International, Inc. creates Mobile Relationship Management Software that helps businesspeople build sustainable relationships, which leads to greater success.
VIPorbit, is the only full-featured mobile relationship manager designed for the iPhone and iPad. From the co-inventor of ACT!, it provides mobile professionals with an affordable, easy-to-use, anytime/anywhere solution that allows them to deal with more people, more effectively, elevating the value of their relationships. Visit http://www.VIPorbit.com for more information, and follow the company at http://www.facebook.com/VIPorbit, @VIPorbit on Twitter and http://www.linkedin.com/company/viporbit.
Press Contact:
Kari Gates, Marketing Manager
media@VIPorbit.com
http://www.VIPorbit.com
Customer Contact:
info@viporbit.com
http://www.VIPorbit.com
VIPorbit is a trademark of VIPorbit Software International. All other trademarks are the property of their respective owners.