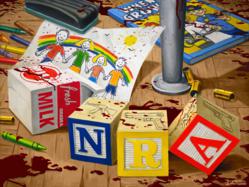 New York, NY (PRWEB) January 08, 2013
While our elected leaders mull over how to prevent future tragedies like the one at Sandy Hook, artist Michael D'Antuono has released his latest painting entitled "Brought To You By The NRA."
The painting depicts a close-up of blood splattered school items scattered on a classroom floor. Among the items are children's wooden play blocks prominently featuring the letters N, R and A. The artist feels that it requires an image as repulsive as the reality to jolt people into pressuring our politicians to put our children's lives ahead of campaign contributions from the NRA.
D'Antuono's dissatisfaction with the NRA's tone-deaf response and refusal to admit their share of blame, stirred the artist to create the hard-hitting piece. D'Antuono hopes the painting will help galvanize real change by reminding people of the horrendous consequences of not demanding meaningful gun control laws. The artist asks the question, "How many of these children might be alive today if the NRA hadn't successfully lobbied congress to let the ban on assault weapons expire?"
D'Antuono's art has stimulated national dialogue before. His paintings "The Truth" and "A Tale Of Two Hoodies" have stirred passionate and widespread debate. The artist continues to create art that challenges people to think more deeply about serious issues and inspire them to improve sociopolitical conditions.
You can view "Brought To You From The NRA" and other paintings at the artist's website. http://www.ArtandResponse.com
Press contact: info(at)ArtandResponse(dot)com