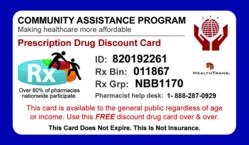 The concept is exceptionally simple: "If the client wins, many others win as well."
Jacksonville, Florida (PRWEB) January 08, 2013
Many a product and or service is advertised as being "free," but turns out in the end to be actually quite expensive. The expense can either be monetary, non monetary or both, but no matter what criterion is used, there is a cost of some sort. Fortunately, there is a program out there sponsored by National Benefit Builders Inc (NBBI) called the "Community Assistance Program" (C.A.P.) that truly has no cost to the public, and although it has already saved Americans over 250 million dollars, still is not known to millions of others.
The concept is exceptionally simple: "If the client wins, many others win as well."
In general, the program is designed to help the millions of people living in America and its territories that are either not insured or under insured pay for their prescription medications. What's also impressive about C.A.P. is that it's not insurance nor is it funded by any governmental institution. It's a great example of American capitalism at its best.
How it works is that a Pharmacy Benefit Manager (PBM) reaches out to various pharmacies throughout the United States to see who may be interested in getting involved in this program. As defined by "Wikipedia" a PBM is a third party administrator (TPA) of prescription drug programs. They are primarily responsible for processing and paying prescription drug claims. They also are responsible for developing and maintaining the formulary, contracting with pharmacies, and negotiating discounts and rebates with drug manufacturers. Today, more than 210 million Americans nationwide receive drug benefits administered by PBMs.
Once this is done, all that is needed is a marketing/distribution system to let the public know that discounts exist on their prescription medications. This is where C.A.P. comes in. They have created a card (similar in size to a standard business card) which is given by the patient to a participating pharmacy along with a valid prescription from a doctor. In order to get these cards to consumers, NBBI has an agreement with over 1700 independent contractors who are responsible for distributing them. It can be given to doctors, hospitals, clinics, social workers, case managers etc. directly who give them out to their patients, or handed out to the public from the representatives of the Community Assistance Program . The logistics of the distribution is not nearly as important as knowing how effective these cards are. Based on the latest statistics from NBBI, consumers have saved over 250 million dollars. Because this card has no expiration date, that figure is expected to continue to rise. Additional facts are as follows:
The card is honored in all 50 States and Puerto Rico
No additional information is needed when presenting the card, to the pharmacist
There are no age or income restrictions.
This is not insurance
Not affiliated with any governmental institution at any level
In the end, it truly is a positive situation for all concerned because:
The patient often pays less for their medications
The sites housing the pharmacy receive increased traffic to their stores
NBBI and their representatives receive a small fee each time the card is used
Though this program may not be helpful to some, for the millions who are currently paying full price for their prescriptions, this could be very beneficial.