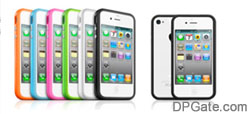 (PRWEB) January 07, 2013
With the popularity of Samsung Google Nexus, DP-Gate.com, a reliable online supplier of cell phone accessories, introduces its new arrivals - Samsung Google Nexus leather cases, and launches a promotion of iPad Mini cases from Jan. 7 to Jan. 31, 2013 to show appreciation to all customers.
There are 12 items totally in the new collection, and they are available in different colors, like green, white, purple, brown, and etc. They are especially designed to protect Samsung Google Nexus LCD Screen from dust and scratches. Their highly transparence can preserve the high resolution and keep the pictures and videos vivid.
Some details are as follows:

Offers a tough, durable, and transparent surface while keeping the LCD screen clean and unscratched
Attaches smoothly with a self-adhering surface; leaves no residue when removed
99-percent UV Protection: Reduces eye strain caused by the LCD screen
Anti-Scratch Film: thickest and most durable
99-percent Transparent: unmatched clarity
Silicone Adhesive Coating: No glue residue when removed
Ultra Smooth Surface: Enhance the experience and utilization of touch screen and stylus features
DP-Gate.com has established the highest degree of customer satisfaction by offering the top quality and fast delivery, and it is is dedicated to developing new products, willing to offer the excellent and functional cell phone cases to users.
Ryan Ran, Senior Marketing Manager of the company, said, "Get registered as a member on DP-Gate.com, and you can enjoy shopping deals with the coupons. No matter wholesalers or retailers, they can find the cell phone accessories in need exactly at our website."
In addition, DP-Gate.com has launched a promotion of iPad Mini cases from Jan. 7 to Jan. 31, 2013 to show appreciation to all customers. They list all the discounted prices on their website directly, so customers can compare prices easily prior to shopping.
About DP-Gate.com
DP-Gate.com is an online shopping mall specialized in business of cell phone accessories, like colorful silicon speaker, iPhone external batteries, and, etc. DP-Gate.com is notable for superior services and efficient delivery speed. Upon two years' the establishment, DPGate.com has provided services for 100,000 customers from over 180 countries.
For more information, please visit: http://www.dp-gate.com/