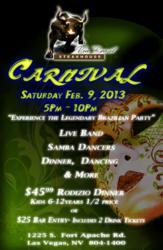 Carnival Party at Via Brasil Steakhouse includes Live Band, Samba Dancers, Dinner and Dancing
Las Vegas, NV (PRWEB) January 09, 2013
Via Brasil Steakhouse is commemorating this 4th Brazilian Festival Celebration in Las Vegas this February 9th'2013. The Owner Adam Gomes promises a memorable night out offering their full Rodizio Dinner, Cocktails along with live entertainment. Via Brasil Steakhouse's Carnival event starts at 5PM with a Brazilian Live Band and carries on with performances Samba Dancers till 10:00 pm.
CARNIVAL CELEBRATION PACKAGE OPTIONS
OPTION 1 $45.99 "Rodizio Dinner with 18 Meats,16 Side Dishes and Gourmet Salad Bar with 35 Hot and Cold Dishes AYCE"
OPTION 2 $25.00 "Two Drink Tickets at the Bar"
Children 5 years old and under Rodizio Dinner is Free and Children 6-12 years old Rodizio Dinner is $22.99
You should know that Carnival is celebrated in every corner of Brazil, but the biggest and most famous undoubtedly takes place in Rio de Janeiro. One of the greatest aspects of the Rio Carnival is that it not only provides entertainment for people from all over the world but it also allows the Brazilian culture to shine. Carnival is of great importance in the Brazilian culture and exposes the world to the true culture of Brazil. Via Brasil Steakhouse is proud to expose Las Vegas residents to this great cultural event as well. "As an authentic Brazilian Steakhouse it is of great importance to family Gomes to honor our heritage and showcase the traditional Brazilian festival, in the process, enlightening Las Vegans on Brazilian Culture..." said Adam Gomes.
About Via Brasil Steakhouse:
Via Brasil Steakhouse is located at 1225 S. Fort Apache Road, on the southwest corner of Charleston Boulevard and Fort Apache Road. Open seven days a week, Via Brasil Steakhouse is open for Dinner service from 5 pm Monday through Friday, 3pm Saturday and 10 am Sunday. Brunch is on Sundays Only from 10:00 am -4:00 pm. Reservations are encouraged. For reservations or more information, please call 702-804-1400 or visit http://www.viabrasilsteakhouse.com. Also follow us on Facebook and Twitter @viabrasilsteakh
Media Contact
Anna Gomes
702-804-1400
anna(at)viabrasilsteakhouse(dot)com
http://www.viabrasilsteakhouse.com