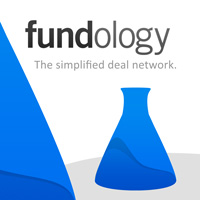 "Fundology is a great networking resource. It offers one easy platform for key players in the private investment industry to make private investments happen." Felix Danciu, CEO of Elmcore Group Inc.
Chicago, Illinois (PRWEB) January 08, 2013
Fundology is the new "investment professional deal network." Previously known as FIEXE (phi-ex), Fundology is the network connecting investors, business owners, dealmakers and service providers worldwide.
Fundology provides highly relevant search results and an improved invitation system to accelerate deal discovery by simplifying traditional workflows and expediting communication. The site connects qualified professionals through its platform and companion e-newsletter. While Fundology is primarily used for capital raising and merger-and-acquisition (M&A) activities it also serves as a distressed-debt marketplace. FIEXE will remain as the "umbrella" brand for user-focused technology products developed by the company.
A new logo is also part of the evolving, user-focused, deal-making platform which has provided innovative solutions for strategic deal discovery and execution since 2012.
"Fundology brings the focus back to our 'basic chemistry' by promoting greater user interaction while better representing this evolving platform," says founder and president Kison Patel. "Fundology provides a single brand name that unites our feature newsletter with our platform and other services. It will make it easier for users to fully access everything we have to offer. We're pleased with this exciting rebranding initiative and look forward to bringing our clients new tools to increase their productivity and ultimately close more deals! Plus it's a lot easier to pronounce."
About Fundology/FIEXE
Founded in Chicago in 2012 by Kison Patel as FIEXE, Fundology represents an online network for investment professionals primarily pursuing various capital-raising and M&A activities while also serving as a distressed-debt marketplace. Like FIEXE, Fundology was founded by a team of technology innovators dedicated to placing user experience at the forefront of their products to enhance global deal making activity. For further information visit: http://www.fundology.com.
For additional information on Fundology, it's products or key personnel, please contact: Kison Patel, President at: kison(at)fundology(dot)com / 312-344-3442 / http://www.fundology.com.
For Members of the Media: To learn more or to speak with members of the Fundology leadership team, media professionals should contact: Joseph Finora at: 631-680-7870 / jfinora(at)optonline(dot)net.