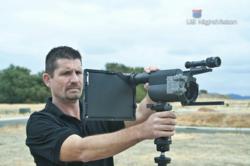 Roseville, CA (PRWEB) January 09, 2013
SHOT Show 2013, US Night Vision Corporation (USNV) is exhibiting their expanded line of iTelligent™ M.S.T.C. (Modular "Smart Device" Tablet Cases). USNV returns to the 2013 Shooting, Hunting and Outdoor Trade Show™ (SHOT Show®) for the thirteenth straight year. USNV is one of the top suppliers of both night vision and surveillance products to Military, Law Enforcement and the Shooting Sports Industry and will be displaying at Booth #20105.
This year, USNV will be introducing new M.S.T.C. capabilities for a wide range of popular Smart Devices and Tablets. The list of Military and commercial grade optics has increased dramatically and will be on display for SHOT Show® 2013. USNV now has professional grade optics adapters for the iPod Touch 5th Gen, iPhone 4, iPhone 4S, iPhone 5, iPad 2, new iPad, Galaxy SIII, Droid® Bionic and the Playbook tablet.
The innovative M.S.T.C. improves optic performance and for the first time, enables users to easily capture and share pictures and video files. USNV has partnered with Tapestry Solutions – a Boeing Company, to deliver M.S.T.C. related solutions to the U.S. Government. Tapestry's proven expertise in command & control software and training solutions, when coupled with the M.S.T.C., can radically improve surveillance, collaboration, and training capabilities for military and law enforcement customers.
USNV's new Universal iPhone Adapter (Patent Pending) will work with iPod Touch 5th Gen, iPhone 4/4S and 5 with or without any case on the market. This inexpensive, lightweight design will capture and share images from different optics across a wide range of technologies. The new Galaxy SIII and Playbook capabilities are all cross compatible and dramatically increase the user base.
Chris Byrd, VP Sales & Marketing commented, "With the new Universal iPhone Adapter, we have really taken the technology to the next level, one size fits all for iPhone. The addition of new adapters for Galaxy SIII & Playbook tablet demonstrates our continued commitment to progressing the technology." "Our partnership with Tapestry Solutions as well as our strategic relationships with major carriers have really put the technology in front of a large user base in a short amount of time. We are proud to be part of this growing team moving forward."
In addition to M.S.T.C., USNV is now manufacturing custom protective wraps for smart devices under its new brand Rapid Wraps™. Rapid Wraps™ are custom graphic protective wraps utilizing "Officially Licensed" brand name camouflage patterns. Rapid Wraps™ are integral to not only protecting the devices in the field but also being able to easily change the camouflage to fit the mission profile. Chris Byrd further commented, "Our new Rapids Wraps™ are manufactured in house so we manage all of the content. This ability allows our customers to be able to change the graphics for their devices to fit their mission profile, whether it's an engagement party or an operation we have our customers covered."
US Night Vision Corporation, based in Roseville, CA, is a world-leading supplier of Night Vision, Surveillance, and Tactical Products for the U.S. Military, International Military Forces, and U.S. Law Enforcement. To learn more, visit: http://www.usnightvision.com
Tapestry Solutions - a Boeing Company, headquartered in San Diego, CA, is a global leader in logistics information management systems, training and simulation solutions, and field support to the U.S. Government, international militaries, and commercial industry. For more information visit: http://www.tapestrysolutions.com
iPhone and iPad are registered trademarks of APPLE, Inc.
Galaxy SIII is a registered trademark of SAMSUNG ELECTRONICS CO.,LTD.
DROID is a trademark of Lucasfilm Ltd.
Motorola Droid is a trademark of Motorola Mobility, LLC
Playbook is a registered trademark of Research In Motion Limited.