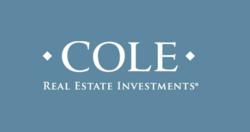 Industry data indicates that office and industrial markets are experiencing higher occupancy rates, rent growth, a low supply of new inventory, office job growth and institutional acquisition activity
PHOENIX, AZ (PRWEB) January 08, 2013
Cole Real Estate Investments (Cole), a diversified real estate company, announced seven new investments in office and industrial properties across the United States on behalf of Cole Corporate Income Trust, Inc. (CCIT). CCIT invests primarily in mission critical single-tenant, income-producing, necessity corporate properties which are leased to creditworthy tenants under long-term net leases.
"Industry data indicates that office and industrial markets are experiencing higher occupancy rates, rent growth, a low supply of new inventory, office job growth and institutional acquisition activity," said Robert Micera, Cole's chief investment officer for office and industrial. "These factors have contributed to a 20% increase nationally in single-tenant office and industrial transaction volume in the third quarter of 2012 compared to the previous quarter."
"We believe single-tenant office and industrial portfolios should present some attractive opportunities for their risk/reward potential," said Indraneel Karlekar, Ph.D., executive vice president and chief investment strategist at Cole. "Data from Real Capital Analytics shows that single-tenant office and industrial transaction volume in 2012 was nearly 11% higher versus 2011. Furthermore, there was more than $10 billion of single-tenant office and industrial deal volume in the second half of 2012, a nearly 30% increase over the same period in 2011."
With these transactions, CCIT's investment portfolio consists of 13 wholly owned properties in nine states, consisting of approximately 3.2 million square feet and a purchase price of nearly $300 million. The debt leverage ratio of CCIT's consolidated real estate assets is 55.3% and the overall weighted average credit rating of the rated tenants in the portfolio is BBB+. The long-term leases and credit quality of the tenants, in addition to the strategic importance of the locations, were all key factors in identifying these recently completed acquisitions:
Honeywell – Handheld Products Office Headquarters
The 60,000-square-foot property, located in Fort Mill, SC, is the headquarters for Honeywell's Scanning and Mobile Productivity business. The Honeywell (S&P 'A') unit, which consistently ranks as Honeywell's largest business segment, manufactures handheld scanning devices, including barcode scanners and mobile computers, as well as supporting software and services.
Amazon Fulfillment Warehouse
This recently completed build-to-suit fulfillment warehouse of more than 1 million square feet, located in Spartanburg, SC, is leased to Amazon (S&P 'AA-'). This property serves as a regional fulfillment center for Amazon, the world's largest online retailer.
Toro Distribution Center
This recently completed 450,000-square-foot Toro Distribution Center, located near Des Moines, IA, was a build-to-suit for Toro (S&P 'BBB'), a worldwide provider of turf maintenance equipment and precision irrigation systems. 
FedEx Ground
A 150,000-square-foot FedEx (S&P 'BBB') Ground distribution facility in Salt Lake City, UT, ideally located near rail and ground transportation hubs, is part of the Rockefeller Group Foreign Trade Zone, which offers users the ability to directly deliver merchandise and bypass many customs restrictions, improving efficiencies.
Coliseum Centre I & II
Totaling approximately 285,000 square feet, Coliseum Centre I & II are two prominent office buildings in Charlotte, NC, 100% leased to a combination of Compass Group USA, Inc., a wholly owned subsidiary of Compass Group PLC; Lend Lease (US) Construction Inc., a wholly-owned subsidiary of Lend Lease Group; and the United States Postal Service, which operates its investigation arm for the Southeast region.
Elizabeth Arden Distribution Center
This 399,000-square-foot warehouse property in Roanoke, VA, located near the intersection of Route 460 and I-81, serves as a strategic distribution location to most major eastern markets. Elizabeth Arden is a global prestige fragrance, skin care and cosmetic company, and this property is their only large-scale distribution center in the United States.
AON Professional Services Building
Located in the Chicago MSA, this 223,000-square-foot property serves as the national printing, distribution and administrative function for AON Hewitt's benefits consulting division. AON Corporation (S&P 'BBB+') provides risk management services, insurance and reinsurance brokerage, and human resource consulting and outsourcing services globally.
In addition to the recent acquisitions, Cole announced that Cole Corporate Income Operating Partnership, LP, the operating partnership of CCIT, entered into a secured revolving credit facility (Credit Facility) providing for up to $150.0 million of borrowings pursuant to a credit agreement with Bank of America, N.A., as administrative agent, swing line lender and letter of credit issuer, and Wells Fargo Bank, N.A., as syndication agent. The amount of the Credit Facility may be increased up to a maximum of $300.0 million. The Credit Facility matures on November 29, 2015.
***
Data Sources:
Real Capital Analytics
CBRE
Bureau of Labor Statistics
About Cole Real Estate Investments
Founded in 1979, Cole Real Estate Investments is one of the nation's leading acquirers and managers of high-quality, income-producing retail, office and industrial real estate assets. Cole primarily targets net-leased single-tenant and multi-tenant retail properties under long-term leases with creditworthy tenants, as well as single-tenant office and industrial properties, using a conservative investment and financing strategy. According to Real Capital Analytics, a leading industry research firm, Cole has established itself as the No. 1 buyer of all single-tenant assets for the past 10 years. At the end of November 2012, Cole-related entities owned and managed more than 1,975 assets representing approximately 71.3 million square feet of commercial real estate in 47 states, with a combined acquisition cost of more than $11.7 billion. To learn more, visit http://www.colecapital.com.
Forward-Looking Statements
Certain statements in this press release may be considered forward-looking statements that reflect the current views of Cole Real Estate Investments and Cole's management with respect to future events. Forward-looking statements about Cole's plans, strategies and prospects are based on current information, estimates and projections; they are subject to risks and uncertainties, as well as known and unknown risks, which could cause actual results to differ materially from those projected or anticipated. Forward-looking statements are not intended to be a guarantee of any event, action, result, outcome or performance in future periods. Cole does not intend or assume any obligation to update any forward-looking statements, and the reader is cautioned not to place undue reliance on them.