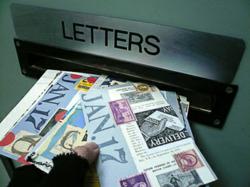 Jennie Hinchcliff has been an active part of international mail art circles and communities for over a decade
San Francisco, California (PRWEB) January 07, 2013
Mail Art 101, an arts workshop at the San Francisco Center for the Book, is a unique introduction into the magical, creative world of mail art.
Mail art is a worldwide cultural movement that began in the early 1960s and involves sending visual art (but also music, sound art, poetry) through the international postal system. (Wikipedia)
Ever sent a Hershey's chocolate bar, a ball of string, or a floppy disk through the mail "as is"? SF Center for the Book instructor, Jennie HInchcliff has, and she'll be sharing her techniques in a day long Mail Art 101 workshop on February 2nd, 2013.
In this full day introduction to the world of mail art, participants will see examples from SFCB Instructor Jennie HInchliff's archive, discuss the idea of "networking", and work on a variety of mail art projects.
In the afternoon, workshop attendees will learn the basics of creating faux postage (artistamps) using a vintage perforator. At the end of the day, everyone will go home with a sheet of self-created artistamps and a multitude of ideas for more mail art projects.
For more information, and to register for this workshop go to http://sfcb.org/civicrm/event/info?reset=1&id=872
About Jennie Hinchcliff
Jennie Hinchcliff has lived in San Francisco for nearly half of her life, but she did not grow up there. She has done many wacky things for a living and had the opportunity to meet a cavalcade of eccentric individuals. She has developed a great affinity for all things Japanese, as well as airmail envelopes and three-olive martinis (dry vermouth, please…)
She currently teaches bookbinding in the fine art department at the Academy of Art University. Her bookworks can be seen in the collections of UCLA, Franklin Furnace/MoMA in NYC, and the University of Oklahoma, as well as private collections throughout the United States. Jennie's artists' books have been shown at the San Francisco Center for the Book, Pyramid Atlantic, and the San Francisco Public Library; her modern-day recreations of both the Codex Gigas and Malleus Maleficarium have appeared in specials for National Geographic television.
In her spare time, Jennie is the editor of "Red Letter Day", a zine which focuses on mail art and related topics. Her work can also be seen in the books "1000 Artist Journal Pages" (2008), "The Creative Entrepreneur" (2008), and "The Envelope Please" (2009). As one of the authors of "Good Mail Day" (with Carolee Gilligan-Wheeler), she is dedicated to introducing the world-at-large to the Eternal Network, as well as sending as much mail as she can via the USPS. Although she never had the pleasure of corresponding with Ray Johnson, she believes that there is a little bit of Ray, in all of us.
About the San Francisco Center for the Book
The San Francisco Center for the Book fosters the joys of books and bookmaking, the history, artistry, and continuing presence of books in our culture and enduring importance as a medium of self-expression. We provide both a home for Bay Area book artists and a place where the wider community can discover book arts. Everyone is welcome here, experienced practitioners and newcomers alike. Over 300 workshops annually offer learning at all levels: from introductory to focused advanced courses spanning traditional bookbinding, cutting-edge printing techniques and experimental book forms. Exhibitions are designed to inform and inspire visitors. Free public programs include opening receptions for the exhibition program, poetry readings, book release parties for our publications, gallery talks, Open Houses and other community events like the annual Earth Day Extravaganza and Roadworks Street Fair.