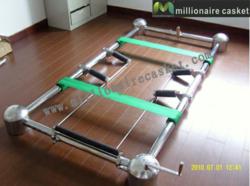 (PRWEB) January 07, 2013
Today, MillionaireCasket.com, a leading company of China caskets, adds a casket lowering device to its product line. MillionaireCasket.com is a major manufacturer offering a full range of caskets, and customers can find a lot of casket descriptions, commentary, purchasing tips, and so forth, on its website.
The lowering device from MillionaireCasket.com is a high-grade lowering device specifically designed for everyday heavy-duty use. With a 1000-pound weight capacity, it may be the most durable lowering device on the market, and is an ideal choice for lowering a casket.
"This casket lowering device is our company latest product. Silent, stylish, sturdily built and with a simple 'one-click' operation, it comes in a range of finishes which will add extra polish and professionalism to ceremonies. Moreover, it carries a 1-year warranty which covers all of the parts, labor and shipping expenses," said, Zoe Wong, CEO of the company..
Zoe Wong continued, "We have a lot of experience in the casket industry, and can help each customer who would like to buy a casket and embalming table from our products online. If customers cannot find their preferred styles or sizes in our catalog then they should not hesitate to contact us. We will not let you be disappointed."
MillionaireCasket.com offers an exquisitely crafted line of all kinds of metal caskets, wood caskets, veneer caskets, cremation caskets, rental caskets, orthodox caskets, infant or over-sized caskets. The standard quality control policy is strictly applied at MillionaireCasket.com, and they strive to provide the highest quality at the lowest possible price.