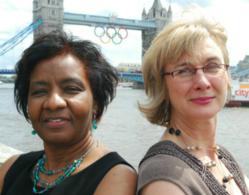 (PRWEB UK) 30 January 2013
Wired for Success is a web TV with a very unique twist. Melanie Gabriel and Beryl Thomas have launched this UK based web TV show to demonstrate not only that life can be adventure, but individuals can be firmly seated in the driving seat of their own life and have some say and control of where it is going, at all times. http://www.wiredforsuccess.tv
Diverse topics constantly illustrate that Living Magically is the natural state of humans - that is, that people are fully capable of achieving everything they want to achieve in this lifetime. These topics offer inspiration and cutting edge tools to awaken the inner magician and spring individuals from the prison of 'non magical' living.
Topics range from the celebration of 'free energy technologies' that have been hidden from the world for decades and won't be suppressed any more, to a woman who healed herself of a brain tumor; from radical, new and successful ways to work with those managing Autism to embracing your Sensuality and Sexual power in a non manipulative way, as a way of restoring balance and flow in your life … and coming soon how a burglar had a spiritual awakening in prison to start helping youths to make something meaningful of their lives.
No strangers to change themselves, these two intrepid adventurers are setting out to bring fresh thinking on old ideas, to tackle controversial subjects and go places where most interviewers would not dare go.
Melanie and Beryl search out their interviewees from all over the world - inspirational interviewees who have already broken out of the norm and are creating lives of pure success, magic and miracles that the audience can easily benefit from.
Their interview style is one of the elements that sets them apart from other web TV shows. An 'in-depth' approach draws out of their interviewees the 'why' and the 'how' that helped them to achieve lasting changed in their lives.
'There's always such good spirit in all the interviews - very uplifting and great work from Beryl and Mel ... yep I'm one of your many fans'
Farida Messaadi
Mastering the 7 Areas of Life http://www.wiredforsuccess.tv
Research and life experience has taught these hosts that by mastering just 7 key areas of life, individuals can stop having tragic, drama filled, addictive lives of pain and isolation and instead can start living a rich inner life - of joy, peace, playfulness and creativity - that drives a fulfilling outer life doing what people want, and having a feeling of connection and purpose in life - and feeling completely 'wired for success'.
Knowing how people think, has helped Melanie and Beryl to bring all of their skills together to create this growing community of like- minded individuals who are sick and tired of being sick and tired and are ready to kick-start their lives.
In these changing and challenging times, people can feel so paralyzed by fear that at best they end up hitting rock bottom before they feel forced to emerge into a new phase of life, but worse still, many more end up settling for a whole lot less in their lives. Understanding that change need not be that difficult and need not happen alone can be the key to getting started on a new path.
Their passion is to support people and stop them from having to hit rock bottom, or if already there, let it be known that there is help and that these things do not have to be gone through alone and however bad it looks, there is ALWAYS a solution.
The message here is that people have a choice between living magically or continuing down the same old desperate path, tragically feeling like a victim of circumstance.
Mastering Life begins at http://www.wiredforsuccess.tv