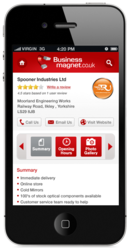 Key for us when updating the smartphone side of our site was to make sure that the fantastic new set of features we had created on our directory would still be available when our users went mobile
Stevenage, Hertfordshire (PRWEB UK) 9 January 2013
As part of its continual strategy to deliver a cutting edge advertising platform for its user base, leading UK online business to business directory, Businessmagnet.co.uk, has once again enhanced its service for those on mobile devices.
March 2012 saw the launch of a dedicated mobile version of the company's website to provide a lower bandwidth alternative to their main site for smartphone users. Although they were pleased with what had been implemented, and customer feedback was very positive, the directory's management team felt that more could be done to produce an even higher quality experience for their users. This drive for excellence brought about a complete reworking of the company's main site as part of their ongoing strategy to stay ahead of the competition. The improvement in the design of the main site quickly raised the need for the mobile version to reflect the same standard.
"Key for us when updating the smartphone side of our site was to make sure that the fantastic new set of features we had created on our directory would still be available when our users went mobile" stated Businessmagnet's Director, Daniel French. "With that goal in mind our team set about delivering a mobile experience that is as close to the full site as possible without compromise".
The new functionality that was delivered through the company's redesign of its main site, launched in June of this year, is now available in the palm of its users hands. New features like tabbed browsing, ultra fast accurate search results and access to their advert management area are as easily accessible to the mobile user as they are to those on full-sized machines. Another aspect which really sets Businessmagnet.co.uk apart from most competing directories is that the site recognises a mobile device even if it comes through a link from another website. As soon as it is accessed via a 'smart' enabled device the server instantly loads the streamlined low bandwidth version providing a service every bit as capable as the full site.
A little over a month has now passed since the updated mobile version of the directory went live and the traffic it is attracting already reflects netizens increasing desire to do business via their mobile devices. "We're seeing major growth in this area as more and more of our customers are choosing to visit our directory via tablet or smartphone" Mr French explained. "Up to 10% of our daily traffic is already coming via mobile devices and as things trend more in this direction it is a side of our business that will naturally evolve to mirror our customers' needs".