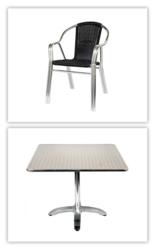 Chicago, IL (PRWEB) January 09, 2013
Restaurant furniture manufacturer Affordable Seating is promoting its line of outdoor and patio furniture with special deals ahead of the busy spring and summer seasons.
In an era of fierce competition in the restaurant industry, a well-designed patio can be the edge that pushes a restaurant over the top. Not only do patios add to the total number of customers a restaurant can accommodate, it can also attract new demographic groups and be advertised as a unique feature that customers specifically look for.
"We have an outstanding line of patio furniture that we are really excited to present to the public. We are offering great deals on our patio furniture ahead of spring and summer just to let people know that it's every bit as well-built as our wood chairs and booths are, which have already gotten a great deal of notoriety," Affordable Seating VP of Sales Nick Warren explained.
Affordable Seating offers Stainless Steel Patio Chair for $42.50 and both square and round Stainless Steel Table Tops with bases included for $65.00. Aluminum, brushed aluminum, bamboo and faux rattan chairs are also available at discounted prices, as are teak and Werzalit tables.
"This outdoor furniture is made to withstand the elements, but we also get a large number of customers who order it for indoor use. Just because our patio furniture is made tough to last a long time in a busy commercial environment and in the sun and rain, doesn't mean it isn't stylish. This furniture is as good looking as it is durable," Warren stated.
Affordable Seating is renowned as a manufacturer of well-made and reasonably priced furniture for indoor use, offering a full line of chairs, bar stools, booths and tables in addition to its line of patio furniture. The company's customer service representatives are trained to aid restaurant owners in finding the right patio furniture to match the style of their venue and to coordinate all of their restaurant furniture purchases.
Developing a well-conceived outdoor seating area can be an essential part of a restaurant's success. Affordable Seating is seeking to expand its already impressive share of the commercial furniture market by helping restaurant owners develop their patio seating.
"The success of our customers is our success. We want as many restaurants as possible to expand their business by adding outdoor seating areas. Hopefully people will take advantage of the great prices we are offering on patio furniture," Warren said.
# # 3