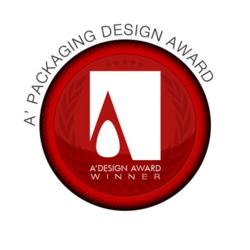 Best package designs will be awarded with the Platinum A' Design Award.
Como, Italy (PRWEB) January 07, 2013
Today, A' Design Award & Competition has announced its final call for submissions for the 2013 Package Design Competition Category. The A' (A-Prime) Package Design Competition is a freestyle design competition open to both concept stage and realized works designed by professional and young designers, packaging design companies and other business in the packaging manufacturing industry worldwide.
About the Package Design Award
The A' Design Award for Packaging is not just an award, it is the indicator of quality and perfection in design, the award is recognized worldwide and takes the attention of design oriented companies, professionals and interest groups. Winning the A' Award is a certificate of excellence for designers, an important milestone in your career. Having the A' Award attracts the eyes of design oriented companies worldwide, winners will be able to find better and higher profile leads, get a step ahead in their commercial life.
Submission Process and Timeline
Submissions are made online through A' Design Award & Competitions' website until the end of February and results of the package design competition will be announced on 15 April 2013. Previous package design awards winners can be seen at http://www.designmag.org . Interested parties could learn more about the the package design competition by visiting the contest website at: http://www.packagedesignaward.com
Benefits for Winners
In addition to the award winners' kit which includes the award trophy, the annual yearbook, printed certificate in metal frame, award winners manual, free gala-night invitation for two people to the award ceremony, free participation and space allocation in the winners' exhibition, free sales listing at SaloneDelDesigner, free utilization of DesignMediator services, inclusion in BuySellDesign Network, proof of creation service, free subscription to listof.net, free listing at DesignMegaStore, guaranteed publication through IDNN and DXGN Networks to 100+ magazines including Design Interviews & DM Design Magazine, press release preparation and distribution through specialized services, publicity and visibility through DesignMedia communications, feedbacks, judging and evaluation of entries by a respected jury panel, lifelong licensing of the award winners logo, A2 poster design and printing for exhibition, and many others such as inclusion in the World Design Rankings, all of which are provided with no further fees, winners of the A' Design Award & Competition also receive Prestige and Honor.
About the A' Design Awards
The A' Design Award and Competition has a very well developed methodology for choosing the best designs using rigorous evaluative criteria, blind judging processes, score normalization, cross matching and more, to reward only the best designers and firms that truly deserve special recognition. The primary aim of the award is to create publicity, PR push and advertisement opportunities for award winners while supporting the global design culture, creating incentives for entrants to come up with superior designs for a better future. Learn more at: http://www.whatisadesigncompetition.com