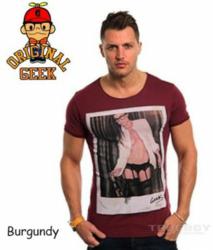 We took the requests and made them happen. We also thought ahead and added the prints to vests ready for the summer
Leeds, UK (PRWEB UK) 22 January 2013
Mens clothing retailer Reem Clothing is expanding its product line further, adding more choices of its Original Geek brand. Most of the Original Geek images are now available on vests, sweatshirts and even iPhone covers.
Adding vests and sweatshirts to the line of the fast selling Original Geek tshirts, allows customers to wear the brand no matter what the weather.
What looks better when heading down the pub with friends than a sweatshirt of a gorgeous woman wearing an open mens shirt with black suspenders and stockings. This is just one design that is available out of many other t-shirts and vests. All styles can be worn extremely well with chinos or jeans.
"We had a lot of requests for the prints to be put on to sweatshirts over the winter months when it has been too cold to wear t-shirts. We took the requests and made them happen. We also thought ahead and added the prints to vests ready for the summer" advises Reem Clothing Marketing Manager.
Reemclothing.com is still looking to receive feedback for all their stock and for the new website. Input is welcome and until February 15th there is a chance to win an IPod Shuffle for feedback submitted through the website. However, customers can also join the conversation on Facebook and on Twitter.
ABOUT REEM CLOTHING
Reem Clothing is a designer mens clothing stockist. Selling the most fashionable designer labels at http://www.reemclothing.com. Reem Clothing allows customers to enjoy the convenience and cost savings associated with online shopping without compromising the high levels of service and security you would expect from high street stores.
The company was established in 2003 and has been growing ever since. Reem Clothing sells through its website, http://www.reemclothing.com and can boast of a personal shopping service that offers friendly and professional advice to ensure that customers get the most out of their clothing shopping experience.
Reem Clothing sells the UK's widest variety of mens designer clothing. They have a selection of up to the minute mens accessories, designer footwear, mens jeans, shirts, t-shirts and shorts. They also stock their own branded mens clothing "Reem Basics".
Reem Clothing prides itself on stocking the largest range of the coolest items of mens clothing. They combine the most fashionable designer labels in the UK with choice imports from Europe. Reem Clothing have all the top brands in mens fashion including, Original Geek, Farah Vintage, Religion, Cuckoo's Nest, Voi Jeans and many more.
Customer service is still a top priority with Reem Clothing, making the shopping online experience completely hassle free. They are more than happy to receive feedback on how they can improve the mens clothing collections or any aspect of the ordering process.