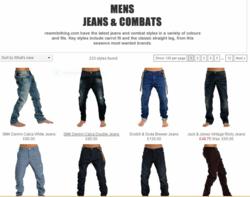 "Denim products are our biggest sellers so we like to be at the top of fashion when it comes to choosing designer denims"
Leeds, UK (PRWEB UK) 22 January 2013
Reem Clothing has always stocked a wide range of denim products from Voi jeans to 55DSL and it has not always been just about the jeans. Denim shirts have recently took the fashion world by storm, especially when paired with designer chinos.
NEW TO THE MARKET
The new brands added to the already wide range of denim at ReemClothing.com include Mish Mash Tommy Hilfiger, Pearly King and SMK Denim.
Mish Mash: This Company has been making jeans for years and they make sure they manufacture their denims to last. None of this compromises the style of the jeans and they are always the height of fashion. Reem Clothing now stocks the hippest jeans as well as t-shirts and shirts too.
Tommy Hilfiger Denim: A young premium denim brand by the well-known American classic designer. They like to keep to classic designs and colours with a modern twist. ReemClothing.com can supply a full Tommy Hilfiger Denim outfit, from jeans to polo t-shirts and even belts.
Pearly King: A relatively new British brand that prides themselves on glamour with expert tailoring. This company are one of few who still use tailors hands to draw and cut the denim as opposed to a machine. Reem Clothing has started to stock t-shirts, mixed material shirts, blazers and much more.
SMK Denim: Marketing their newest campaign for Spring/Summer called Evolution. They supply buyers with a range of jeans in different finishes, styles and fashion fits. Reem Clothing is gradually building the jeans collection on their online store.
"Denim products are our biggest sellers so we like to be at the top of fashion when it comes to choosing designer denims" Says Reem Clothing Fashion Buyer.
ABOUT REEM CLOTHING
Reem Clothing is a designer mens clothing stockist. Selling the most fashionable designer labels at http://www.reemclothing.com. Reem Clothing allows customers to enjoy the convenience and cost savings associated with online shopping without compromising the high levels of service and security you would expect from high street stores.
The company was established in 2003 and has been growing ever since. Reem Clothing sells through its website, http://www.reemclothing.com and can boast of a personal shopping service that offers friendly and professional advice to ensure that customers get the most out of their clothing shopping experience.
Reem Clothing sells the UK's widest variety of mens designer clothing. They have a selection of up to the minute mens accessories, designer footwear, mens jeans, shirts, t-shirts and shorts. They also stock their own branded mens clothing "Reem Basics".
Reem Clothing prides itself on stocking the largest range of the coolest items of mens clothing. They combine the most fashionable designer labels in the UK with choice imports from Europe. Reem Clothing have all the top brands in mens fashion including, Original Geek, Farah Vintage, Religion, Scotch and Soda, Voi Jeans and many more.
Customer service is still a top priority with Reem Clothing, making the shopping online experience completely hassle free. They are more than happy to receive feedback on how they can improve the mens clothing collections or any aspect of the ordering process.