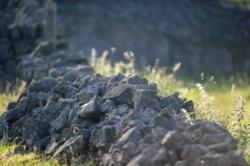 I had no idea when I posted this photograph on Facebook that it would be so popular.
Peak District, UK, 8th January 2013 (PRWEB UK) 8 January 2013
With hundreds of hits in the first half an hour, the team at the UK's largest online holiday accommodation directory watched in delight as their Spot the Little Owl game went viral.
Encouraging their Facebook followers to share the image of a tiny bird camouflaged amongst a dry stone wall and comment 'spotted,' it seems the competitive nature of their loyal Facebook friends has astounded the team at Peak District Online, who set the quiz as a bit of a hoot over the Christmas period.
"I had no idea when I posted this photograph on Facebook that it would be so popular," laughs James Dobson, director and wildlife photographer of the family run company http://www.peakdistrictonline.co.uk. "We've had over 1300 shares already, with 650 people so far liking the picture in just under a week and the fun is still going on."
James lives and works in the Peak District and along with fellow director Steve Wake, who is himself, a talented Peak District landscape photographer, the two started the very popular online holiday accommodation directory several years ago. What started off as a small family run business has now expanded to a dedicated team of staff who can now boast they are the largest holiday accommodation directory in the UK, covering the entire Peak District area. New pages are added to the website on a daily basis, and the success of their recently launched Facebook page is bringing a lot of fun into the lives of their followers, as well as their team.
"Our mindset from the beginning when we first had the idea for the website, was to help visitors to the area find not only Peak District accommodation suitable for what they could afford, but also to add a little extra information, facts and news about the area," explains Steve. "Our site now attracts over 200,000 unique visitors each month and every week our team of experts add new pages to the website, constantly updating our latest offers, reporting news and providing little nuggets of interesting text to help the visitor to the Peak District enjoy the area they may have come to stay. Both James and I are proud of its popularity, and we hope visitors to the website enjoy our photographs and writing as much as we all enjoy producing it. The Facebook page is a real treat and an important part of our job and is proving very popular we're delighted to say."
The little owl is certainly a character and can often be seen in broad daylight in some places of the Peak District National Park. The team at Peak District Online have added the miniature owl to its expanding wildlife section, brought to life with stunning photography and evocative text. With its small stature, this feathered creature delights visitors to Derbyshire on a daily basis - if they can spot it that is.
"These little critters live very close to my home in Foolow in the White Peak and I'm delighted they are getting their profile highlighted. I'm usually up at dawn every morning, finding new subjects to photograph for our Peak District Wildlife and Villages section, and quite often I'm accompanied by one particular little owl, who seems to have got quite used to my presence now." James goes on to say, "Popping up with perverse pleasure at unexpected moments, the little owl's camouflaging is utterly amazing. Their feathers blend in so well to the limestone walls and they're very hard to spot unless you actually see them land. I spotted the shadow of the little chap on Facebook in the Summertime, last year, whilst driving through Wardlow and as I slowed down, the cheeky little thing ducked down and I really laughed out loud as to how sneaky he was, hiding from me."
The popularity of Peak District Online's profile seems to be contagious, as the Likes and Shares on the Facebook page have continued into the New Year.
"What has been so lovely has been the camaraderie and conversations that are going on with our Facebook friends," explains Steve. "Our team here have been joining in, and the competitive nature of our Peak District Online followers is all taken in good humour. We've had over 1000 comments on the post so far and over 10,700 views. It's really brightened a lot of people's Christmas, egging on their friends and relatives to try and spot the tiny critter."
The Peak District wildlife section of http://www.peakdistrictonline.co.uk features the little owl in all its glory, adding inspiration and ideas for places to visit whilst on holiday in the National Park. The very popular game of trying to spot the little owl camouflaged in the limestone wall, can be found on their Facebook page.