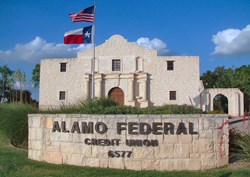 Now our members can sign documents anywhere they have Internet access.
-Max Villaronga, president and CEO of Alamo Federal Credit Union
CHATTANOOGA, Tenn. (PRWEB) January 08, 2013
SIGNiX, a leading provider of secure digital signatures, recently added Alamo Federal Credit Union (AFCU) to its client roster. AFCU, one of the fastest growing credit unions in Texas, is using SIGNiX's digital signature service so that AFCU members can sign documents online.
"Now our members can sign documents anywhere they have Internet access," said Max Villaronga, President and CEO of AFCU. "This partnership will make doing business more convenient for our members and our employees. Members won't have to come in to the branch every time we need their signature, and our employees won't have to spend as much time mailing and filing paper documents."
SIGNiX will employ its MyDoX product, a standalone interface that enables users to upload documents, customize fields and immediately send documents out for signatures. SIGNiX uses cloud technology for document creation making implementation seamless with no hardware or software.
In addition to convenience, MyDoX adds a level of security to the document signing process that wasn't possible before. SIGNiX's signatures are fully compliant with the U.S. E-Sign Act, state UETA laws and international document and cryptographic standards.
"MyDoX lowers credit unions' risk by tying users' identities to their signatures," said Jay Jumper, President and CEO of SIGNiX. "The documents created in MyDoX have the document history built in, so our customers can trust that their documents can't be altered without it being immediately evident to all parties."
About SIGNiX
SIGNiX, headquartered in Chattanooga, Tenn., offers a standards-based digital signature service that lets users send and sign documents online without compromising on security. SIGNiX enables customers to make their processes paperless with a solution that is secure, auditable and compliant with laws and regulations in the United States and internationally. Users can be immediately authenticated online so documents can be legally executed electronically without the costs, risks, delays or resources of paper processing.
About Alamo Federal Credit Union
Alamo Federal Credit Union is a not-for-profit, member-owned financial institution created in January of 1930 by twelve postal employees. It was the first credit union established in San Antonio and the twelfth in the State of Texas. Today, Alamo Federal Credit Union is one of the fastest growing credit unions in San Antonio. Alamo offers branch conveniences, a state of the art phone system, free online banking and bill pay, mobile banking, and free access to over 37,000 ATM's nationwide.