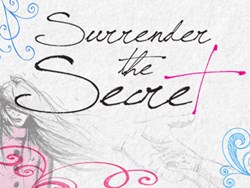 "This series offers a unique view into the recovery process for those who have had an abortion" – said Mecklenburg Community Church senior pastor, James Emery White
Charlotte, NC (PRWEB) January 07, 2013
KnockTV, LLC and Mecklenburg Community Church today announced the premiere of the groundbreaking TV series, SURRENDER THE SECRET, will be hosted by Mecklenburg Community Church in Charlotte, NC. The event will take place on January 22, the same day the series will launch globally on the Internet.
The event will be open to the public on a first-come, first-seated basis, with doors opening at 6:30 p.m. The first episode of SURRENDER THE SECRET will be shown in its entirety on this evening. The screening will be followed by a live, on-stage Q&A session with Producer, Cecil Stokes (who's latest project was feature film October Baby), Pat Layton, author of the Surrendering the Secret bible study which the show features, and the women of the series - Jill, Vanessa, Kelly, Jane and Courtney. The premiere is intended to publicize the launch of the series, specifically taking place in the city where season one was filmed, Charlotte, NC.
Mecklenburg Community Church agreed to host the premiere on their North Charlotte campus at 8335 Browne Rd., Charlotte, NC 28269, noting that the show promotes values of forgiveness and healing after abortion that the church holds as well. Mecklenburg Community Church, with over 8,000 active attendees, is considered by many to be a non-traditional church and is made of people who were largely "unchurched" before beginning to attend. More information about the Premiere event in Charlotte can be found at http://www.KnockTV.com/SurrenderTheSecret/Charlotte-Premiere.
SURRENDER THE SECRET is gaining nationwide attention, and is being hailed as a new and innovative way to educate viewers about the effects and recovery after an abortion. It is a 10-episode, Christian reality TV series following five women through the Surrendering the Secret bible study (by Pat Layton, LifeWay Press, 2008), who tell their stories about having abortions and go on a journey of healing. The women surrender their deepest, darkest secrets, and form a tight bond. Through this journey they learn about God's love and forgiveness while being set free from the bondage of their past decisions. Information and a preview of the show can be found at http://www.KnockTV.com/SurrenderTheSecret. The series will air on the Internet at KnockTV.com, with all episodes available on-demand, 24/7, once each episode is released.
Mecklenburg Community Church senior pastor, James Emery White said: "We are so pleased to host the premiere of SURRENDER THE SECRET. This series offers a unique view into the recovery process for those who have had an abortion."
"We cannot thank Dr. White and Mecklenburg Community Church enough for their willingness to partner with us on the premiere of SURRENDER THE SECRET. By doing so, they prove to be a leading edge, forward thinking leadership and congregation who are not afraid to confront the topic of abortion within their walls. The facilities and support being provided by Mecklenburg Community Church are perfectly suited to host a first-class premiere for the series," said Geoffrey Rogers, President & CEO of KnockTV.
About KnockTV:
KnockTV is established to redefine what Christian television means in America. This is being done through the distribution of an entirely new breed of Christian television programming. KnockTV is breaking the mold in the industry by distributing high quality, mass appeal programming for Christians throughout the country. Programming on KnockTV is currently distributed via the Internet to computers, mobile and handheld devices across the globe. KnockTV is targeting alternative distribution technologies and cablecasting in the near future. Visit KnockTV online at http://www.KnockTV.com. You can also follow KnockTV on Facebook at Facebook.com/KnockTV, Twitter at Twitter.com/KnockTV and YouTube at YouTube.com/KnockTelevision.
About Mecklenburg Community Church:
Mecklenburg Community Church began with a single family and has grown to over 8,000 active attenders. Mecklenburg experiences nearly eighty-percent of its growth from those who were previously unchurched and during its formative years was named one of the fastest growing church starts in the United States. Meck is one church with five campuses and seventeen weekend services. For more information on campus locations and service times visit mecklenburg.org.
About Surrendering the Secret:
Surrendering the Secret is dedicated to the healing of those who have had an abortion through its bible study and national leader training program. The bible study (by Pat Layton, LifeWay Press, 2008) is accompanied by a leader guide and DVD series. With over 1,000 trained group leaders across the nation, Surrendering the Secret's mission is to provide a supportive and confidential environment that facilitates healing and restoration from a past abortion and bring a sense of hope and purpose for the future. This bible study is the one that the women go through in KnockTV's "SURRENDER THE SECRET" TV series. Pat Layton has a new book being released January 22 titled "A Surrendered Life" which will be available at the evening's premiere. More information can be found at http://www.SurrenderingTheSecret.com.
Contact:
Geoffrey Rogers
KnockTV
813-308-9172
gmrogers(at)KnockTV(dot)com
Lindsay Mitchell
Mecklenburg Community Church
Director of Communications
704-598-9800
lmitchell(at)mecklenburg(dot)org
Alyssa Shutty
Surrendering the Secret
727-265-0285
alyssas(at)awpm(dot)net