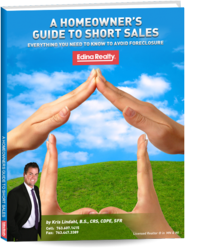 I have access to exclusive software that the general public deserves to have
Blaine, MN (PRWEB) January 07, 2013
Edina Realty announced this morning that Kris Lindahl, their number one short sale agent, will be hosting a seminar that covers Equator's short sale process. The seminar is scheduled for later this week and will be held in Blaine, MN. At the seminar Lindahl plans to go through the Equator short sale process in an easy-to-understand step-by-step presentation using real life examples.
Kris Lindahl also plans to answer general short sale questions after the presentation and take personalized questions for up to one hour. The scheduled Equator seminar is part of a larger campaign led by Kris and his team to bring information to the public that was previously only held by real estate professionals.
"I have access to exclusive software that the general public deserves to have,"Kris Lindahl said. Lindahl will be reviewing several online short sale resources that he has created during the seminar.
Kris recently received the Chairman's Award, the highest honor an agent can receive, from Edina Realty again for excellence in sales and sales volume in the past year-to-date. Call Kris and his team at (763) 607-1415 for more information. Visit the Minnesota Short Sale Calculator website to check eligibility. Download a complimentary copy of "A Homeowner's Guide To Short Sales" and check out the video series on YouTube.