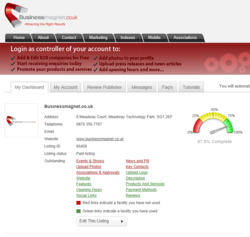 The main reason behind the implementation of this new login facility was to give our users even more access to control the content of their advertisement
Stevenage, Hertfordshire (PRWEB UK) 16 January 2013
Award winning UK based online business to business directory, Businessmagnet, has created a fully enhanced login facility for its user base of over 140,000 subscribers. Part of a six-month project that rebuilt the directory's website from scratch, it has brought a host of new features to the fingertips of the company's customers, giving them even greater creative control over their directory listings.
This new login facility was a core feature at the heart of a massive redesign of the company's entire website. "The main reason behind the implementation of this new login facility was to give our users even more access to control the content of their advertisement" explained Director Daniel French. "They now have direct control over a wide range of customizable options thanks to this new system and are able to make changes 24 hours a day".
At the heart of this 'advert management portal' is the way in which Businessmagnet's users are able to display their companies' key information. As an account controller adds new details to their listing the relevant tabbed sections are activated. This gives a more modern look to the advertisement and also enhances readability for those users who are browsing the directory. This tabbed structure allows users to pack a great deal of content into their advertisement without the worry of it looking overloaded or cluttered.
Every listing on the directory, even for those that have chosen a free one, has a summary tab showing an overview of the company. As the advertising package is upgraded more options, and therefore more tabs, become available. Features like a special tab dedicated to social media sites, an area for uploading press releases and even the option to embed a video can be made available through this new account management area. The level of customisation that Businessmagnet has now given to its customers is another area that is allowing it to stay ahead of competing business to business directories.
"This overhaul of our login area might sound small to an outsider, but sometimes those things that appear simple are the hardest and take the longest to do" Mr French stated. "It was actually a huge project; the development of databases and all the coding that went into it was immense. Thankfully the hard work was well worth the effort as we have managed to deliver a fantastic platform that our customers are extremely happy with".
If you are a business to business company and are based in the UK you can add your business for free to the ever growing community of businessmagnet advertisers, please register your business by clicking this link.