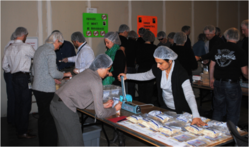 New Hope, MN (PRWEB) January 09, 2013
Kids Against Hunger's mission is to significantly reduce the number of hungry children in the USA and to feed starving children throughout the world. Recently, they partnered with Cargill employee volunteers to package meals for children in need.
"Two of Cargill's four core values are engaging our employees and enriching our communities," said Rob Heithoff, vice president in Cargill's information technology group. "Supporting Kids Against Hunger and hosting the recent meal packing event with our business partner, Accenture, allowed us to accomplish strides in both areas. When the team came up with the idea to host the event, we were humbled by the overwhelming positive response we received from our team members."
Together, Cargill and Accenture employees doubled their initial goal of packaging 20,000 meals and their donation to Kids Against Hunger so more employees could participate.
During the event, organizers kept the volunteers' spirits and pace up with music, cheers, awards and friendly competition. The 300 enthusiastic participants exceeded the event goal by 15 percent by packing more than 46,000 meals in less than two hours. That amounts to enough food to feed 126 kids one meal a day for a year.
"Volunteering is not only a great way to serve our community but also a great team building opportunity," said Heithoff. "We hope to partner again with Kids Against Hunger."
Today, almost 1 billion people go without sufficient food. As a company dedicated to nourishing people, Cargill is committed to increasing food security around the world. Food security exists when everyone has access to sufficient amounts of safe, nutritious and affordable food to provide the foundation for an active and healthy life. Food security is a matter of universal importance – and a basic human right.
About the company:
Kids Against Hunger packages highly nutritious, life-saving meals for starving children and malnourished children and their families in developing countries and the United States. The goal of the volunteer organization is for its meals to provide a stable nutritional base from which recipient families can move their families from starvation to self-sufficiency.
Kids Against Hunger accomplishes this by mobilizing the energy and caring of American children, teens, and adults on behalf of hungry children around the world. Kids Against Hunger seeks to end child hunger by offering children meals, and also satisfying a hunger among prosperous Americans - a hunger for meaning and contribution. For more information, please visit their website at http://www.kidsagainsthunger.org.